Originally published by Owner Builder Magazine, this excellent article by Rob Wainwright of Permaforest Trust comes complete with many useful building details, as well as quite a few beautiful photos.  Rob explains how they built their four meter dome step-by-step clearly enough that others could build one similar.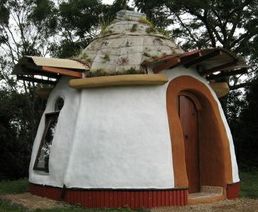 This project is now featured on our Projects page and our Articles page.
Part 2, Finishing Off an Earthbag Dome, also by Rob Wainwright, is not yet online but is available direct from Owner Builder Magazine, issue 147, June/July.
The Permaforest Trust website is a treasure trove of informative articles on living lightly on the land, with hours or days of free reading material.  Highly recommended.