This article by Kyle Chandler-Isacksen can be found in its entirety at www.motherearthnews.com It is about building with earth and is his Top Tip for regenerative living.
By earth I mean clay-rich soils and sand. Building with earth falls under the broader umbrella of natural building and the even bigger one of green building. For this article, I'm sticking with just building with earth: cob and adobe, natural plasters and clay-paints.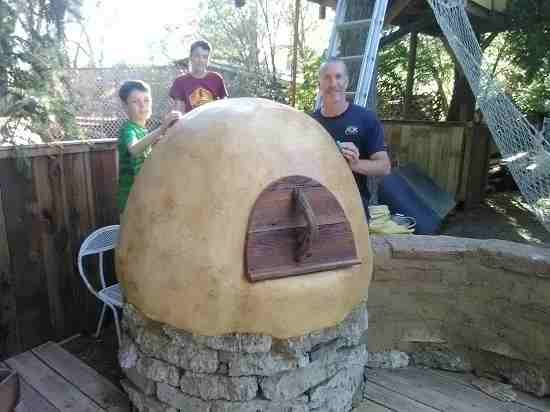 Why earth? People have been living with earth for millennia and maybe a third of all people today still are. I suggest it's a part of us and the human experience as much as music and storytelling. There's a deep affinity within us that feels primal, natural, right when we enter an earthen home or run our hands along a sexy, slightly undulating earthen-plastered wall. Earthen construction has curves, like nature. It has personality and character and flaws that make it lovable. Earth ages well and looks timeless, like it belongs to a place or helps a place to belong.
Clay-rich soils and sand are abundant and can often be sourced locally, not requiring big companies and damaging extractions.  Earth is non-toxic: there's no off-gassing and ill-begotten wars needed to secure it. Clay soils come in a variety of colors: the clays on our land are dull-red and brown but we also bring clays from afar when we travel including a vibrant red-orange clay from over the hill in Auburn, California.  We also scavenge leftover pottery clay from art studios and classes which isn't local but is salvaged and provides other colors. Earth is fun to work with and building with it is democratic – anyone can do it.
Here's a short rant: Have you seen the Sherwin-Williams logo "Cover the Earth" with the earth getting drenched in blood-red paint?  Dear god, is there a more awful logo out there?
We purchased our broken down house in 2011 and have fixed it up since then with a lot of earth inside and out. Building with earth is not just for new houses and cabins but also for remodeling conventional homes, like ours. Here's what we've done (consider this my list of tips):
• Applied clay paint over our existing paint in our bedroom
• Earth-plastered our living room over our old paint and drywall
• Added an earthen floor section to our living room
• Repaired original stick-framed walls with light-straw clay infill and earthen plaster in our mudroom and bathroom
• Built earthbag landscaping walls to define spaces and create beauty
• Built a cob pizza oven in our front yard and a cob "stoven" on our porch for summer slow-cooking
• Made earthen plaster art and paintings for around the property (easy to do on old drywall pieces)
• Earthed-out an existing shed and transformed it into a lovely summer cabin
• Used earth to encapsulate and decorate a wood-fired hot tub
Made a thick, heat-retaining wall of earth in our greenhouse
• And, down the block: Poured an earthen floor in my mother-in-law's mother-in-law cabin, an earthen hearth in her home, and built the One-day Cob House in her backyard