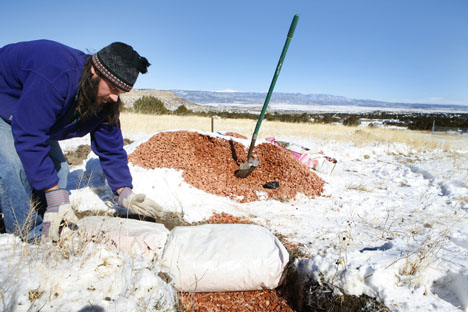 It's going to be just like an old fashioned barn raisin' at the Green Desert Eco Farm in Rockvale.
But instead of using planks, hammers and nails, builders will use lots of feed bags, earth and barbed wire.
Richard Hubler and his wife, Kerry, are preparing to build their first earthbag shelter, and they invite anyone interested in the process to stop by and lend a hand.
Hubler first saw the idea in Mother Earth magazine a couple of years ago and decided it would make a practical, environmental friendly shelter for the family's two llamas.
The adobe style walls are made with woven poly animal-feed bags filled with earth to make building blocks, similar to adobe blocks. The project will require about 400 bags.
After digging a trench, Hubler adds gravel then a layer of the bags filled with gravel. The remaining bags are filled with earth and stacked like bricks and tamped together to make a custom formed mortar-less earthen wall. Barbed wire placed between the layers of bags keeps them from sliding.
You can read the full article by Carie Canterbury at the
Canon City Daily Record
You can learn more from the One Little Farm blog.