I have been doing some further research into sources and qualities of  mesh tubing that  would be suitable for hyperadobe style earthbag construction. I feel that this innovation has so much merit that it should be pursued on several fronts, from further experimentation and documentation to eventual testing , engineering studies and code approval.
Of the several manufacturers of the mesh tubing that I have contacted, one in Canada has been most responsive, recognizing the enormous potential the technique has in the sustainable construction industry. This company is Syfilco Ltd. in Exeter, Ontario. They have provided me with samples of several of their products that might have some application, and indeed I think that they do.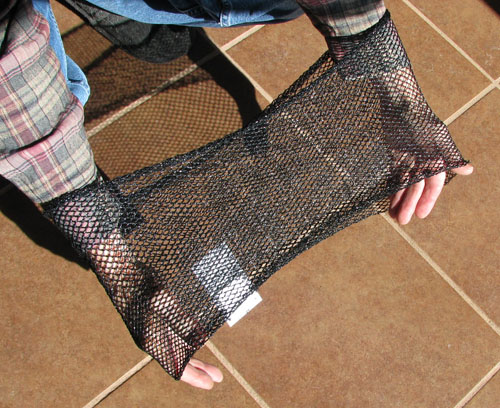 The mesh tubing pictured above measures about 18″ when stretched out with my hands inside, and would tamp down to about 5″ I'm guessing. When stretched this way, the actual length decreases by about 1/3, so it might take 3′ feet of material to be the equivalent of a 2′ solid poly bag. They have a similar mesh that measures about 10″ across when stretched, and this might be especially useful for filling with an insulating material (recycled styrofoam?) to add as an outer layer.
The material used to manufacture this tubing is high density polyethylene (HDPE) that has been UV protected (and since the sample is black, this would add to its resistance to UV deterioration). This tubing is generally used as a debris boom for erosion control. The tubes are filled with various types  of material depending on what the use is and placed on the ground to contain or filter water flow or bank reconstruction etc. It clearly has to be very tough for this application.
In fact Syfilco has run some tensile strength tests on the larger tubing material and determined that can withstand about 1250 lbs of pulling before it might break. That is more force than you would ever expect to be placed on any individual tube, even during an earthquake. If you consider that any given wall would be comprised of many interconnected tubes, and all it would take is three or four courses to be able to tow an ordinary automobile, you can get an idea of how strong this system might be.
Engineer Nabil Taha, of Precision Engineering, says, "The strength of earthbag building come from a good mix of the soil not from the bags themselves. The bags are important before the soil hardens, but after that, it is the soil that does the work."
Nabil agrees that the mesh tubing will have many advantages over the solid poly bags, including that the barbed wire can be dispensed with, the plaster will have better attachment to  the wall, and most importantly, the entire building will be more monolithic.
In evaluating the materials costs involved, I think that the hyperadobe system stacks up very well. Syfilco says the larger width material will be about $0.15 per ft. and it comes on 2000 or 2500′ per roll,  so you can figure between $300 and $375 per roll. That is enough tubing to build an entire house, and you wouldn't need to purchase barbed wire or plaster mesh, so there would be considerable saving compared to more conventional earthbag building.
By the way, Syfilco is a manufacturer and deals only with wholesale orders of skid lots, so it may be necessary to arrange to purchase their materials through a retail distributor. I will let you know via this blog if and when such a distribution outlet is established.