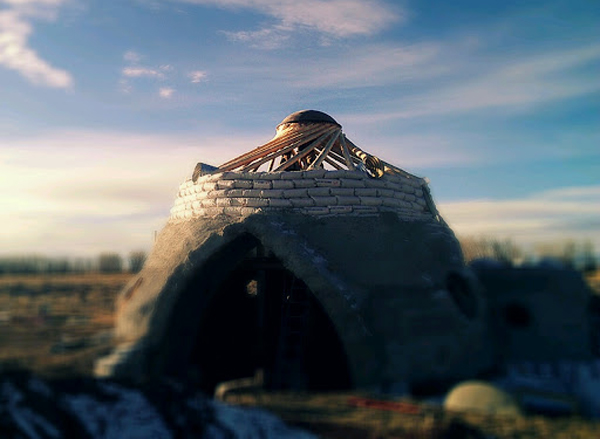 "This is Chris who's building the 24′ reciprocally framed scoria bag dome in Crestone. It has a 12′ gothic arch out the front southside; a vaulted airlock entrance; a 100 square foot cool pantry; and loft. I have a few months into this, 90% solo.
Why I did a reciprocal roof on the dome:
Once I started corbelling the rows in a good bit above the loft level, it became apparent that I was building at the limits of size for a self-supporting scoria filled earthbag dome. This 24′ dome would become quite tall if it was to be built with the typical lancet arch side profile, and I would have to wrangle with the errant bags wanting to roll inward where my circle was bulging. Seeing how the loft completely solidified the bagwork on the lower dome walls, and wanting to keep the build solid, aesthetic and cheap, I excitedly chose to try out reciprocal framework for the top of the dome. Even including the expensive domed yurt skylight, I figure that the reciprocal framing route came out rather equal in terms of time and money, considering the roughly 7′ of dome height, scoria fill, bagwork time, and plastering in the skylight that I avoided. It took a few nights to peel the timbers, and a friend helped on two very cold half days to spiral it up together, bolted up top, and rebar pegged through the feet. The reciprocal framing strengthened the bagwork so much that I pulled the rebar and bottle-jacked out the bulges into a nice aesthetic domed loft space. This held shape perfectly before I pounded rebar back through the timbers and bagwork."
Anyways, been busy working a lot of overtime out of town so I haven't gotten to do any work on the dome in a while. But after watching my build, there are half a dozen people now interested in building with earthbags in the San Luis Valley. My coworker is interested by my talk of rebuilding the walls of his destroyed 20′ yurt with scoria filled hyperadobe, utilizing a single billboard tarp and 2 dozen small timber posts, like VelaCreations/Abe Connally built off-grid in Mexico. Should be quick and cheap."
Chris's Picassa
Note: Scoria is a type of lightweight volcanic rock that's ideal for earthbag building. It is fireproof, rot proof, highly insulating, light and easy to work with. This is what Kelly used to build his dome home. Scoria requires extra steps to stabilize the walls, because the material is loose and can shift. Search our blog for more details.