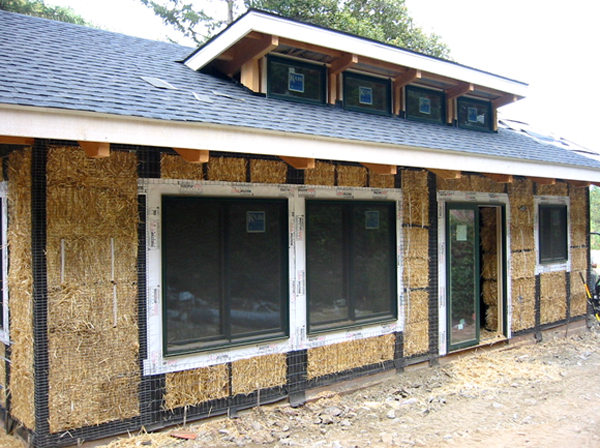 "The current code approved method for straw bale construction that can resist wind and seismic forces is not shown in the International Residential Code, IRC or the International Building Code, IBC.
However, it is shown as an appendix to some state residential code such as Oregon Residential code, appendix R, Straw-Bale Construction. The provision of this appendix is applicable to single family detached structures and related accessory structures as defined in Section R101.2, utilizing straw-bales in the construction of wall systems. So, if someone wants to build a straw bale home without the need to hire a licensed Engineer or Architect, he/she will need to check with their local building department to see if they have adopted the appendix.
Currently, the International Code Council (ICC) committee is working on a more advanced and better prescriptive method for straw bale home that is still on the development stage. The method will be much easier and better and will be applicable to straw bale homes with bigger openings than the old one. The work is not approved yet for use. For now refer to APPENDIX R STRAWBALE CONSTRUCTION.
The structural system/framing for these are usually post and beam beams for vertical loads. The straw bales are used as infill between the columns to provide excellent insulation for the wall. I met some owners of these beautiful homes who told me that they are saving 80% compared to stick framing houses of the same size.
Advantages of the post and beam system:
• More design options.
• Two story construction.
• Easier code approvals.
• Roof up quickly.
• Familiar construction techniques.
Straw bale construction has been used across the world for commercial applications.
If you have any further questions, please e-mail me, thanks.
Bill, Nabil, Taha, Ph.D., P.E.
President/ Precision Structural Engineering Inc.
Licensed in 47 States.
Also, we have completed projects in 26 countries internationally.
We value your business! Our mission is to provide the highest quality design for the
most competitive price in the industry.
Please visit our website at for sample projects and at our clients testimonials/survey.
P.S. The highest compliment our clients can give is the referral of their friends and family. Thank you for your trust.
250 Main Street, Klamath Falls, Oregon 97601
Tel: 541-850-6300, Fax: 541-850-6233
e-mail: bill@structure1.com
Linkedin: nabil.taha55
Web: www.structure1.com
(Structure.com also provides engineering for earthbag houses and other types of natural building methods.)
Other code-approved strawbale building systems
Odisea LLC Jeff Ruppert's system is published in The Last Straw Journal, by far the best publication ever on strawbale building. Back issues are available for a modest fee.
Huff 'n' Puff hybrid straw bale method in Australia
Huff 'n' Puff load bearing strawbale walls
Huff 'n' Puff post and beam strawbale method