Steve over at Utopia Springs sent me a link about a fascinating housing idea for desert areas.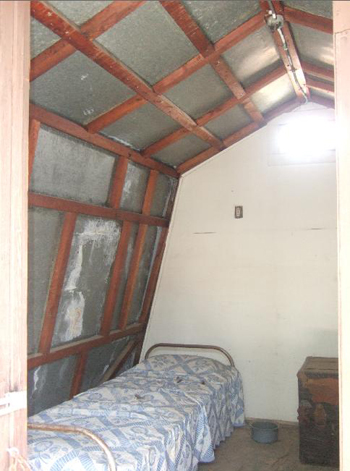 These structures stay cool in the desert (in the 60's) using just evaporative cooling. The galvanized metal roof is covered with burlap, and water flows down over the top. A small RV pump is adequate to keep the system going. They were popular with railroad workers and farmers starting in the 1920s, and were also used to keep milk and produce cool. The same principle was used on a four-bed ward at a local hospital.
Steve found one remaining structure at the Coachella Valley Museum, in Indio, California. He estimates a 12V-4W RV pump would cool a small room like this at a cost of about $1/sq. foot. Add a small photovoltaic panel or windmill water pump and it would be even more sustainable. Imagine combining this concept with earthbag end walls to capture and retain coolness, low cost earth floors, vines to shade end walls, etc. The possibilities are endless. Thanks for sharing, Steve!