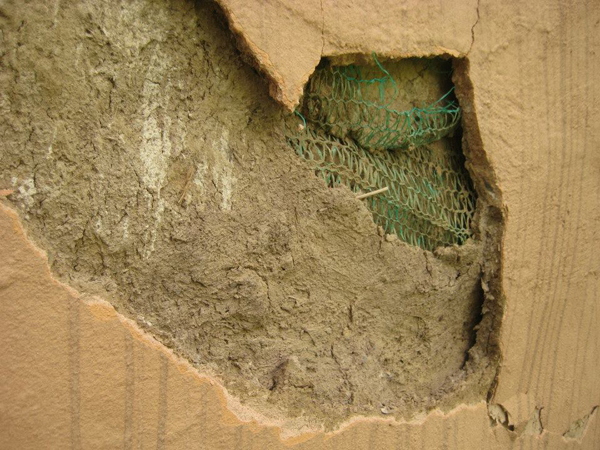 "This is the dome of a friend in Colombia, is located at 1,600 meters above sea level on a rainy climate, in a land with many gravel. The superadobe is stabilized with hydraulic lime, has a double wall to 3.30 and wire. Foundation is 60 centimeters deep and filled with cement and stone above it a concrete plate 6 cm. The iladas of superadobe may have moisturized longer than necessary due to rain during the construction process despite being covered with plastic dome. It has lime plastering the outside that have not worked. Feels much moisture inside and you see many cracks inside and blown, cracked plaster outside. Apart from a "diagnosis" purely visual, but we seek what to do to help the owner to learn how to waterproof the outside and inside."
Kelly: "I feel so sad when I see something like this. The dome house is really quite beautiful and it is such a shame that it has these major problems. Owen and I don't advise people to build earthbag domes in wet climates for this very reason. Short of building a separate roof over the structure, it is next to impossible to guarantee that moisture won't find its way through the plaster to the inside and cause the sorts of problems encountered with this dome.
The person who posted the images on Facebook is mostly focusing on failures due to fundamental stresses within the design, but I think the main problem is the lack of having a waterproof skin, which allows all of these other problems to occur.
My recommendation to save the building is to make a permanent separate roof over the entire structure, with eaves to keep the rain off the lower parts of the walls as well. There is a diagram of one such roof shown at the beginning of this project. First build the roof, then wait until the entire structure has a chance to dry out completely, then repair and replaster the walls where necessary.
I hope they can save the building; so much work and love into building it obviously.
Muy buena suerte con todo!"