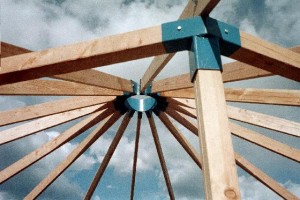 Sometimes special hardware can really come in handy for speeding construction. That's probably why there are hundreds of different anchors and straps available – they really do make buildings stronger and easier to build. The anchors pictured above are used to build hogans, an octagonal shaped structure favored by the Navajo and others living in the American Southwest. These anchors would be useful for building an octagonal post and beam structure that could be wrapped with earthbags. You could build an octagonal earthbag structure without a post and beam frame, but it does open up some interesting possibilities such as:
– building insulated earthbag homes with scoria, etc. [the frame would help stabilize the walls]
– helping obtain code approval [not a sure thing, but it may help in some cases: you could say the bags are for insulation]
– providing the aesthetics of post and beam
– enabling the roof to be built sooner, which would provide shade and protection during construction [think through how you will build the earthbag wall: Wrap the frame with insulated bags? Finish the roof immediately above the earthbags later so you can tamp the bags?]
– building fast, low cost accessory structures such as sheds, gazebos, workshops, etc.
Image credit: E-Z Hogan
See my Native Spirit octagonal home design at Earthbag House Plans.