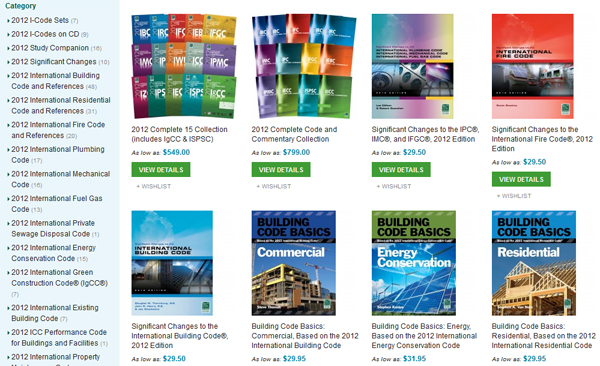 The discussion about Obomba's new housing program gave me an idea. I was making the point how government programs are initially proposed to sound wonderful so people go along with them, but over time tend to grow and grow until burdensome.
To help make my point, let's briefly compare early building codes to today's codes. I found numerous historic building codes using Google Books, some of which are listed below. Note the book length – around 62-77 pages. In comparison, the 2012 International Building Code is a veritable tome at 690 pages (and larger pages to boot). And that's just one book. The International Code Council has 173 items on their online store. You don't need all of these books to build a house, of course. I'm just pointing out how much building codes have changed over the years and how homeowners foot the bill for all this bureaucracy. Add to this list the training and certification costs for builders, engineers and architects and the final cost is significant.
I imagine the early building codes were very sensible and easy to understand. Those basic, common sense codes probably did improve the housing situation (no wood chimneys, for instance). That's a good thing. Unfortunately, government bureaucracies usually (always?) run amok and eventually price average people out of the housing market. Just for fun, browse a copy of modern codes the next time you're at a library or bookstore and see for yourself if the codes are sensible and easy to understand, and draw your own conclusions.
1948 Washtenaw County Michigan building code for one-and two-family dwellings — 62 pages
1950 National Research Council of Canada — 77 pages
A code for dwelling construction for buildings housing one or two families
1920 National Lumber Manufacturers Association City Ordinance — 62 pages
Image source: ICC