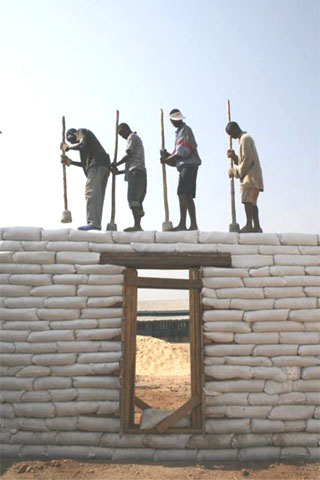 Shine On Sierra Leone, a human service foundation that provides education, mentoring and nutritional support to schools in Sierra Leone constructed a school building using earthbags.  The building was made without power tools, but instead hand made tools. The idea was to use materials that are easily accessible to locals.
At first, the workers laughed at the idea of "building with bags" and very quickly, they became excited and took ownership in a way that brought the village together in an unprecedented way. They asked if they could name the building "Unity Building" because all of the tribes felt united and that they were essential. The roof is traditional, as the intended dome shape took some getting used to in the village. However, due the huge success of this building, they now want to build the first eco-dome village in Sierra Leone. The dome will make the buildings very, very affordable, as the roof is usually the most expensive part.
For more photos and description see earthbagbuilding.com.