It deeply saddens me to see one disaster after another occurring around the world, especially since much of the tragedy could be prevented by building earthquake-resistant earthbag houses.
The recent earthquake in Haiti is but one more example of this. Theo (Father Marc Boisvert) runs a project for the poor in Haiti. Their earthbag Sun House fortunately escaped unscathed even though nearby structures were devastated. According to Theo's blog "…no one hurt and no structures damaged."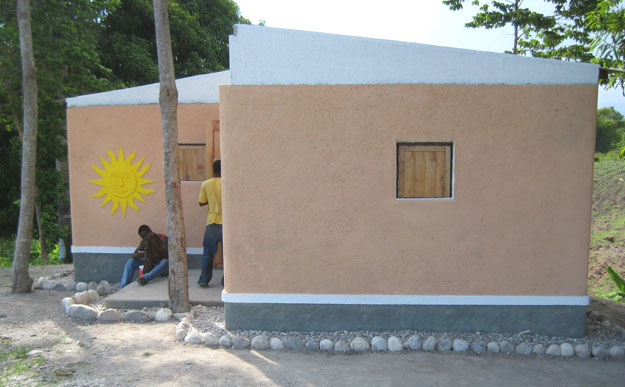 Note: the Sun House example by itself is not conclusive proof of seismic resistance. More testing is called for, but anecdotal evidence and test results keeps growing and so far is extremely compelling.
Bryce Daigle's testing and thesis, for example, details how earthbag walls obtain maximum compressive strengths almost 10 times as great as those typically achieved by conventional stud-frame housing in terms of load per metre of wall length. Testing Proves Earthbags Very Strong
Nadir Khalili's tests in Hesperia, California demonstrated how earthbag structures exceeded the strength of the testing equipment with no deflection or failure, and received code approval in the most dangerous level — seismic zone 4.
Properly built reinforced concrete structures, which can be engineered to high earthquake-resistance, are not affordable in Haiti and countless other areas around the world. So even if building codes are in place, builders in these areas will find a way to circumvent them. That, and excessive codes will prevent people from building affordable housing. After years of studying the situation, earthbag and strawbale construction appear to be the most practical solutions.
Additional resources:
Earthbag Testing page
Post-tsunami Affordable Housing Project
Emergency Earthbag Shelter Proposal
Additional testing is underway by Engineers Without Borders at the University of Florida.
Contact the author from our About Us page for more information.