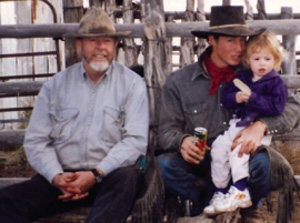 The recent story about Cliven Bundy, the rancher in southeast Nevada who's been harassed by the BLM, is not alone in his fight for land rights. Here's a story from last year about one of Bundy's neighbors. The point is to look into the facts instead of making a knee-jerk decision based on mainstream talking points. All the while keep in mind that what happens to these ranchers could very well be coming your way someday if these government agencies are not reined in.
"In an historic 104-page ruling, Chief Judge Robert C. Jones of the Federal District Court of Nevada has struck a major blow for property rights and, at the same time, has smacked down federal agencies that have been riding roughshod over Western ranchers and property owners. The long-awaited ruling, which had been expected before the end of last year, was finally issued at the end of May. The court case, U.S. v. Hage, has been keenly watched by legal analysts and constitutional scholars — but has been completely ignored by the major media.
Judge Jones accused the federal bureaucrats of racketeering under the federal RICO (Racketeer Influenced and Corruption Organizations) statute, and accused them as well of extortion, mail fraud, and fraud, in an effort "to kill the business of Mr. Hage."
More at the source: New American (Excellent article, best on the subject so far.)
War on the West: Why More Bundy Standoffs Are Coming
Jay is blocked on this topic until he apologizes for his abusive language about Cliven Bundy and learns to write with respect. Readers don't have to agree with me, but please refrain from hate speech and name calling.