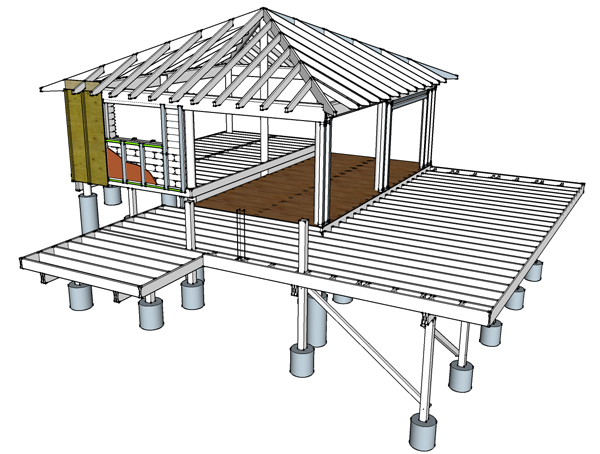 "About two years ago, my family purchased 11 acres in the north of New Zealand with the hopes of creating a family farm out of the empty paddocks. With a good pioneering spirit, we moved onto the land and lived in camper trailers for the first winter. It quickly became clear that we needed some better shelter, so we decided to build a cottage.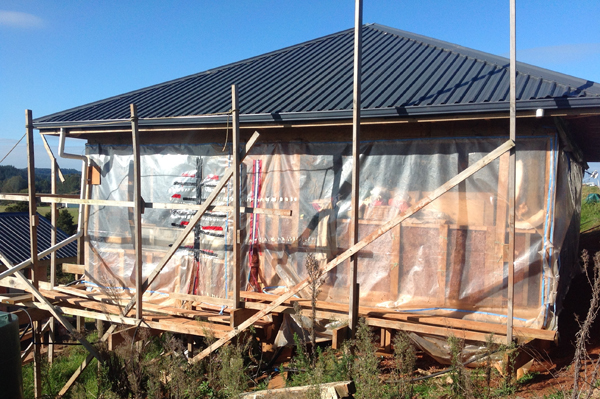 At that time, we saw a few posts on the Natural Building Blog about pole buildings. We bought a couple of books and adapted a plan so that we could get started. One of the big advantages of pole building is the minimal site prep. Also, pole buildings are resistant to high winds and earth quakes, which are a consideration here. The other advantage is that the region's main pole manufacturer is just down the hill from us.
We quickly got the poles in and the roof and floor in. We wrapped the building up in green house plastic to protect it and make it liveable. At that point we had to stop and figure out what to fill the walls with. We have always been fans of earth building and wondered if there was a form of earth infill that would work in a pole building. We settled on scoria bags walls as we also have a scoria quarry near by and it's one of the lighter forms of earth building. None the less, our engineer has asked us to put in some mid-span piles between poles to account for the extra weight of the scoria.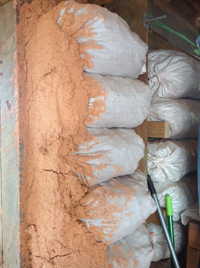 The outer shell of the cottage will be board-and-batten plywood. I am doing that to create a good moisture barrier. This is my first NZ building (I am Canadian) and am concerned about keeping out the driving rain that is prevalent here.
We started the cottage without a permit as the building consent process in NZ has become very onerous and prescriptive in the last decade. This is sad for a country that has such a history of innovative pioneering. We knew that we could not afford the time or money that the consent process would involve. We planned instead to get the building registered after we were done. However, after a neighbour reported us, we entered the process part-way through construction. This set us back over a year. We are nearly through the process of getting final approval to finish the building. And, to the local council's credit, they have accepted our strange hybrid building style.
We look forward to finishing what we think may be the first scoria bag pole house!
Michael and Family
Note: NZ building authorities were momentarily hung up on the insulation value (R-value) of scoria, even though Kelly Hart's house in Colorado is comfortable in arctic like winters. If anyone knows of an authoritive source for the R-value of scoria, please let us know. Please cite your source, author, title, date, etc. so we can verify. I'm almost certain it's been tested. It's probably buried in a report somewhere. Also, search our blog for keywords scoria and lava rock for extensive information about this wonderful natural building material.
Michael responds to my question about scoria R-value: "In the end I made due with the value from rammed earth. They had me do an online energy assessment that took a lot of factors into account. They only allowed me R0.6 for my walls (equivalent to 300mm of rammed earth). But, the other insulation and double glazed windows combined with a large amount of solar gain pushed me over the top despite the poor wall insulation."
Owen: I'm glad he got his permit, but this is laughable. We all know scoria is porous and lightweight. It's filled with air pockets and has far more insulation value than rammed earth. Again, hopefully someone with access to a good library can track down the actual R-value.