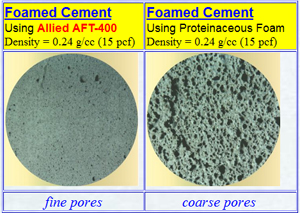 Natural builders strive to reduce their use of cement due to high cost and adverse environmental impacts. Sustainability conscious natural builders might use ferrocement, cement plaster or micro concrete roofing tiles which use relatively small amounts of cement, and avoid more concrete intensive materials such as concrete block. Foamed lightweight concrete is another material that could be added to the list of green building materials. Granted, not every natural builder will agree and so there will likely be some healthy differences in opinion. Anyway, a reader sent me a tip about Allied Foam Tech and I thought this might make an interesting blog post. This material is lightweight, has good thermal and acoustic properties, low water uptake, fire resistance, high early and 28 day compressive strengths, freeze/thaw resistance and it's available in a wide variety of products. It's even floatable and can be used to make boats.
"Foamed concrete or lightweight concrete derived from Allied's aqueous foams are suitable for both precast and cast-in-place applications. Some of the highly insulative cementitious foams at densities 48 kg/m3(3 pcf) to 645 kg/m3(40 pcf) or higher can be used as block fills, lightweight roof deck and void-fill materials. Good strength characteristics with reduced weight make lightweight concrete based on Allied's aqueous foams suitable for structural and semi-structural applications such as lightweight partitions, wall and floor panels, and lightweight blocks. Cementitious foams derived from Allied's premium systems are suitable for thin layer coating applications where specific performance criteria are required.
Foamed concrete and foamed cement made with Allied's foam have very fine pore structure, unlike that made with conventional proteinaceous and surfactant foams. The pore structure of Allied's foams hardly show any sign of deterioration as the density of the foamed cement decreases to below 160 kg/m3 (10 pcf). At densities below 160 kg/m3, the pore texture of foamed cement derived from conventional foam agents becomes so coarse that most of them show severe structural collapse.
The inert nature of Allied foam systems makes them compatible with different kinds of aggregates, fillers, extenders, retarders, accelerators, colorants, hydraulic inorganics and many other additives."
Source: Allied Foam Tech.com
Here's a related product called Biological Concrete, a magnesium phosphate cement that allows lichens, moss and other drought resistant plants to grow on the outer layer.