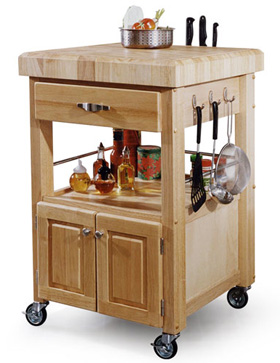 Here's a brief description of a project I built years ago, back when I made custom woodworking projects. Rolling kitchen islands are fun to build and easy enough for most weekend woodworkers with average tools. They're also very handy to have in the kitchen. Rollable islands are ideal for small kitchens because you can push the island to a convenient work location (often near the sink) and push it out of the way when finished. There are lots of features you could add, such as knife racks, wooden drawers for utensils, and shelves for appliances such as blenders and mixers.
These are the features I used:
– 1-1/2" thick maple butcher block made with ¾"x1-5/8" boards glued together
– 2-3 coats of pure walnut oil on the butcher block (doesn't have to come in a fussy gourmet bottle)
– Danish oil on remainder of wood parts
– solid maple legs and frame mortised together
– roll out mesh veggie bins (great because air can circulate around the produce)
– industrial strength locking castors (find a store that sells parts to commercial businesses)
My biggest memory of the project? It turned out so nice and was priced so low that I was reluctant to deliver it.
Image credit: Easy Salad Recipes.com