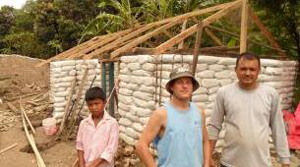 "The Nepal earthquakes destroyed almost 605,000 homes, and damaged 288,856 more. While there is an urgent, ongoing need to provide immediate shelter in Nepal this solution is still a temporary one.
There is also a huge need to support permanent rebuilding and reconstruction. Permanent shelter is always complicated however, and Nepal's extreme terrain presents challenges to transporting building materials to remote areas.
In response we're working with Endra Rai's "Outdoor School Nepal" to evaluate the use of earthbag construction in Sindhupalchok. This would eliminate the need to transport significant amounts of materials which could instead be sourced on site.
Our team in Nepal has already supported Endra's construction of one earthbag house in Sukute, and we're planning to work with Endra to build more earthbag structures to further develop our understanding of how the process could be more widely applied.
Please donate now to help us develop permanent shelter solutions in Nepal."