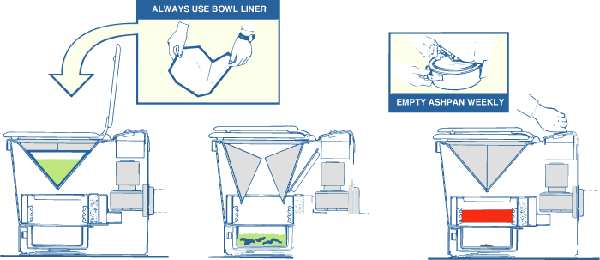 How it works:
Drop bowl liner into toilet bowl. Bowl liner catches and contains all waste plus paper.
Flush bowl by stepping on foot pedal.
Push start button to incinerate waste automatically.
INCINOLET uses electric heat to reduce human waste (urine, solids, paper) to a small amount of clean ash, which is dumped periodically into the garbage. INCINOLET remains clean because waste never touches the bowl surface. A bowl liner, dropped into the bowl prior to use, captures the waste, then both liner and its content drop into the incinerator chamber when the foot pedal is pushed. You can use INCINOLET at any time-even while it is in cycle.
Incinolet electric incinerating toilet
These toilets cost nearly $2,000. That's pricey, but this toilet may be preferred by some because there's no mess, no smell and it meets code. Search our blog for lots of other less expensive eco toilets.