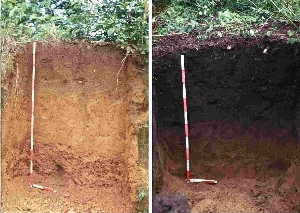 I'm really fascinated with the terra preta/biochar concept. We briefly touched on the subject in our blog post Big Ideas that are Changing the World. Watch the excellent video there for a good overview of the subject.
Terra preta is nothing short of amazing. It's considered the most fertile soil in the world, and has retained its fertility over thousands of years. Studies have reported positive effects from biochar on crop production in degraded and nutrient–poor soils. Biochar–enhanced soils can indefinitely sustain agricultural production [that means forever!], whereas non-amended soils quickly become depleted of nutrients. Compare terra preta to modern industrial agriculture that gradually depletes soil and pollutes groundwater and food sources with toxic chemicals.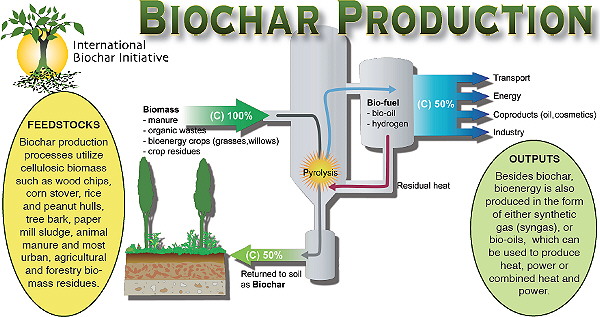 That's the background story. My personal goal is to do some small scale biochar experiments to improve our garden. Based on a little research, it seems most efforts to recreate the awesome terra preta soil in the Amazon seem based on a cookbook approach – add X, Y and Z and hope it works. So far no one to my knowledge has perfectly replicated what the ancients knew. The secret may lie in creating synergy between the ingredients so the end result is greater than the sum of its individual parts.
Possible ingredients for making terra preta: charcoal, worm compost, worms, effective microorganisms (EM), wood ash, lava ash, leaves, grass clippings, straw, rice hulls, manure, coconut husks and shells and charcoal, bagasse, rice hulls and rice hull ash (convenient source of affordable charcoal), mycorhizzae (a fungus superhero), rock dust, seaweed, fish bones, food scraps, composted weeds, pottery shards and other low cost natural ingredients. And remember, the terra preta doesn't have to be exactly the same as the stuff in South America. Your plants should take off if you get it 90% right.
Two ingredients that stand out from the rest and seem to play a central role in terra preta:
Charcoal: Biochar or agrichar (biomass turned into charcoal by smoldering) is a key ingredient of terra preta. Charcoal is very porous and so it has lots of surface area to retain water and nutrients. That means reduced irrigation and fertilizer requirements, less nutrient leaching, and higher crop uptake of nutrients. Biochar boosts agricultural production, improves soil structure and pH. Biochar can retain twice as much carbon dioxide than typical soil, and therefore could help mitigate global climate change via carbon sequestration. Burying biochar helps prevent it from getting washed away in the rainy season.
Worms: Following observations and experiments, a research team working in French Guiana hypothesized that the Amazonian earthworm Pontoscolex corethrurus was the main agent of fine powdering and incorporation of charcoal debris to the mineral soil. More details available at Wiki- Biochar.
Image source 2: Energy Realist.com