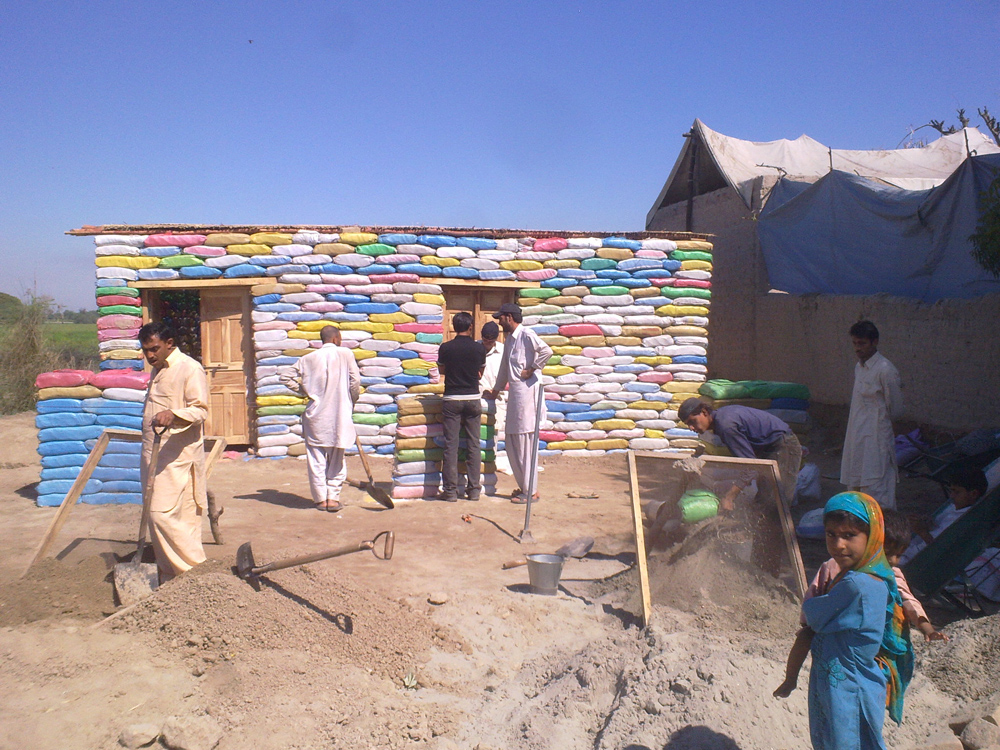 Today's post is from a group in Pakistan who's building flood resistant houses.
"Sir, the size of the structure is 20 feet by 12 feet. We have given a buttress on the back wall. We dug an 18 inch trench and put gravel till 6 inches. After doing so we tampered the gravel so that it becomes leveled. After doing this we filled the first two rows of bags with 6% cement 34% river sand and 60% clay. I should make it clear that the clay available to us is not 100% clay. It has a mixture of silt and sand. The first two rows of the bags have been directly placed on the tampered gravel. After reaching the height of 18 inches, we reduced the amount of cement to 3% but kept the soil ratio the same. For the roof we have used bamboo and iron girders. The height of the house reaches approximately 9.2feet. We have given the house a single slanting roof i.e the back wall is 9.2 feet the front wall is 8.5 feet and the pillars for the veranda are 8 feet. We have also built a veranda and the pillars of the veranda have been erected by using earth bags.
This house took us 17 days to build. The mud plastering of the house will be over by day after tomorrow. I will send you the pictures. We do plan to build more, our target is to build 500 houses.
I would also want to invite you to Pakistan so that you can come help us with this project. There are many people over here who need rehab and experts like you would be a boon for the community."
Sheheryar Khan Kharal
[Note to builders who are planning earthbag careers: Here's another good opportunity to learn, help others and gain experience. Email me from our About Us page if you're interested.]