I don't usually use this space to promote things, but in this case I would like to put out the word that my wife and I have decided to sell our home in Crestone, Colorado that we have developed over the last five years as an ecological homestead. I have written about some of the elements of this home before in this blog, as well as in my recent book about green remodeling.
The original house was a double-wide manufactured home (27 X 40 ft., two bedroom, two bath) that was securely anchored to a permanent foundation. It came with the "Alaska Package" that is well insulated with 6″ stud walls, and this has been improved with additional radiant barrier insulation and solid wood exterior siding.
I have enhanced the thermal performance with added windows to the south and east, ceramic tiles covering most of the floor, and a stone heat sink behind the Hearthstone wood stove; the house is very cozy in this climate at 8,000 feet. If the sun shines (which it does most of the time) we need no further heat, but if needed the wood stove or the forced air propane furnace can be fired up. The house also has an attached greenhouse that serves to augment the solar heat if needed.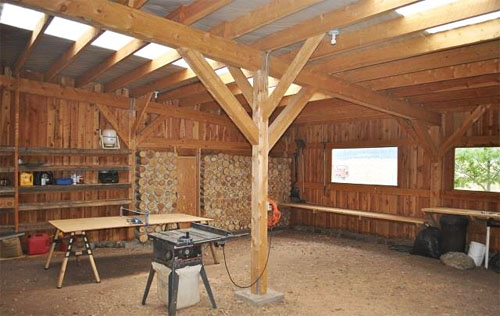 I recently built a massive addition to the house that includes an attached mudroom entry, a 30′ X 30′ garage/barn, a chicken coop, and a two-story recessed pantry and 1500 gallon rainwater storage tank. This entire complex is under a continuous metal roof, so you can roam all of it without getting wet in a rain. The house was also re-roofed with metal soon after we bought it, so there should be very little maintenance required.
There are two other separate buildings: an 8′ X 12′ storage shed and a 12′ X 16′ shop with a concrete floor. These buildings are not insulated and the roofs are standard asphalt shingles.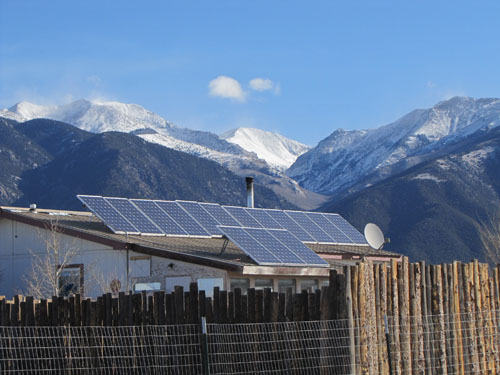 I installed a 3.6KW photovoltaic grid-tied solar electric system on the roof of the house. This system provides more electricity than we generally use, even with the hot tub (not included) running every day. A battery backup is hidden under the house and can be employed in the event of a power outage. The controls for all of this are located in a separate compartment outside the envelope of the house so the noise it makes is not troublesome. There is a small solar thermal system, also on the roof, that augments the domestic hot water.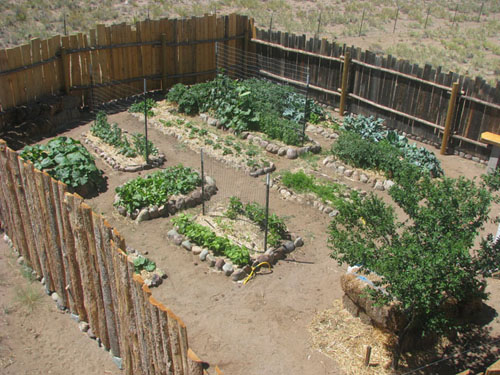 The property is over half an acre, most of which is fenced. A large fenced garden keeps out both small and large critters and protects the plants from wind. Many trees have been planted on the property, including a variety of fruit trees. Just outside the greenhouse is a cold frame that has produced vegetables all year round. The rainwater catchment system could water much of this if needed, but we are also connected to water and sewer from the local water and sanitation district.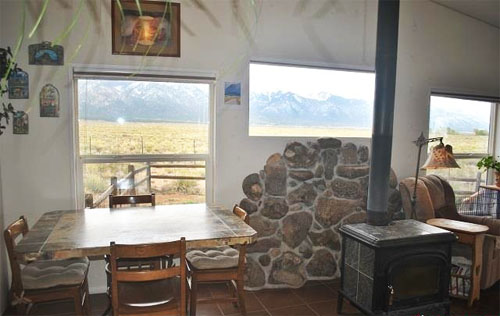 I should mention the extraordinary views from this house and property. We are located where there an unimpeded view of the Sangre de Cristo mountains, and the windows in the house have been optimized to take advantage of this. Much of the year you can view the snowy peaks of the string of 14,000 footers to the east. To the south can be seen the dunes of the Great Sand Dunes National Park. We are located at the very end of a road, so there is no through traffic, and the peace and quiet here cannot be equaled!
All-in-all, this is an opportunity for someone to buy a ready made homestead at a price that would be impossible to duplicate anywhere. We are asking only $134,000 for the entire package. It has been listed with a local realtor, and you can go to their page about it to see many more photos and find out more about it.
If anybody has serious interest in knowing more about the property, please contact me directly via email, and I would be happy to communicate further. If we bring in a buyer we will make more money. I can be reached at kellyhartATgreenhomebuilding.com
Previous posts about this property include:
The Pantry/Root Cellar
Evolution of a Pantry Concept
A Barn/Garage/Chicken Coop/Pantry/Mudroom
Remodel Green: Make Your House Serve Your Life