Grub hoes and grape hoes are my favorite digging tools. Shovels work fine with loose material such as gravel and sand, but it's rather difficult digging clayey soil such as road base with shovels. One of these hoes, however, can cut right into the soil and readily pull the material into buckets without lifting. Think about how many buckets you have to fill to build a house and obviously simple work saving tips like this really add up.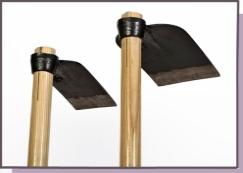 When you have lots of digging to do for foundation trenches, leveling the site, planting trees and so on, it's hard to beat grub hoes and grape hoes. In fact, I found on the Internet that they are the world's most widely used garden and farm tool. They're used by millions of small farmers and gardeners around the world, and have been popular for centuries.
One final note. Grub hoes are slightly larger and therefore better suited for digging difficult soil. You can swing it and blast through tough soil, sod and soil with roots. This is my favorite for digging foundation trenches. But on the other hand, it's a bit heavy for using all day long. The lighter weight grape hoe, almost the same shape except shorter, is perfect for filling buckets with soil.