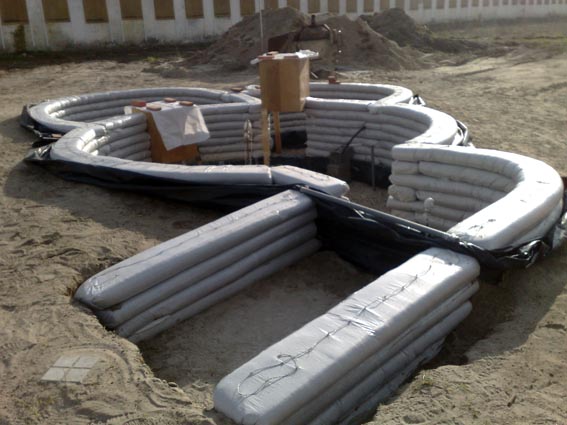 Luis J. Barragàn sent me notice of their new program in Spain, as explained below.
Our contribution to the new paradigm of this century is healthy and natural homes made of earth. Me and a group of friends are immerse in an spectacular project, this is the building of adobe houses here in Spain. It may sound a bit crazy, but really is a beautiful work as well as sustainable and respectful with nature and environment. To have an ecologic, beautiful and singular house and at a reasonable price, now is possible.
We can learn how to build our own house in one of the workshops that are already taking place in Cuellar (Segovia) or if you prefer, entrust the design and construction to the team. If this is the case, it will be done in a personalized way and in agreement and respect for the place and environment.
To live in these houses is healthy, they have a very low energy expense and they are beautiful. They are also built very quickly. If you want to know more and get information you can ask through our web and follow us in facebook, tienestierratienescasa, they will delighted help you.
We give one week workshop on how to build these houses or we can build it for you. We hope you like it.
http://www.tienestierratienescasa.com/ Website is in Spanish, but you can use Google translator to read the site in English.