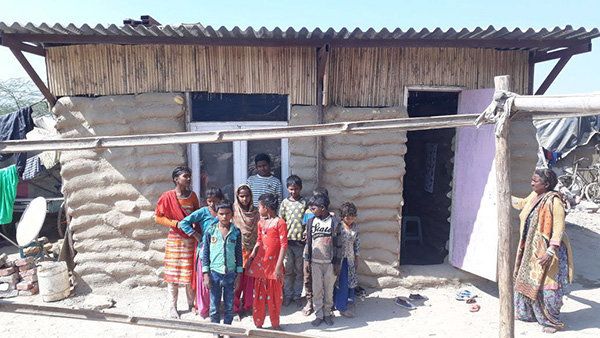 The school was built by NGO Lakshyam and Geeli Mitti. What makes it so special is that it was built using neither bricks, nor cement!
This was going to be the very first Earthbag technique based school in Delhi. A school built with limited natural resources without any adverse effects or carbon footprints to harm the environment. Not only was this going to be a 'health-conscious building' but a strong and sturdy one at that.
The school itself has four to five different concepts interwoven including the earthbag structure, stone foundation, mud plastering, thatching and more.
Shagun believed in the efficient use of natural resources, like mud, over common alternatives like cement. She says, "In the earthbag technique, the advantage is that 95 percent of the soil can be used as it is, without any alteration. That can't happen with any other building style. "
Shagun, who lead this entire building project, is not only an active propagator and user of different natural building techniques but also has a learning centre at her Geeli Mitti Farms eco-resort where all the different techniques are taught.
To find out more about the different farming and/or natural building techniques, workshops, raising livestock, sustainable ways of living or to simply return to your roots and pay a visit to the scenic farms and indulge in hands-on learning and community service, you could check out their website – www. geelimitti.in or write to Shagun at geelimittiindia@gmail.com.
The Better India
Kelly made a project page based on this at Earthbag Building.com