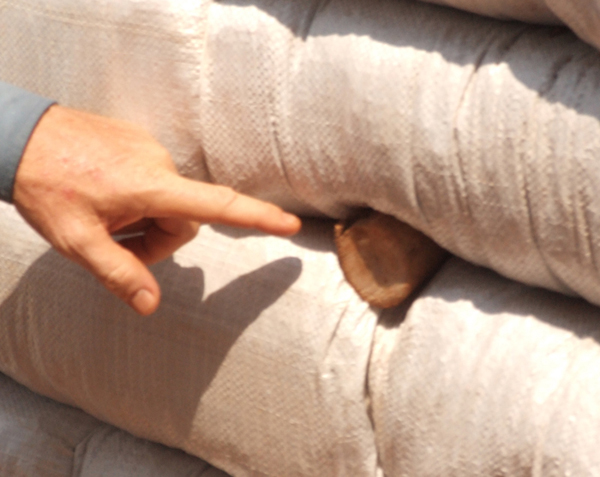 These topics have already been covered in various posts on our blog, but I'm pulling everything together here for easy reference. Our blog now has 1,460 blog posts and it's getting more difficult to find things. For those building an earthbag home, the bottom line is plumbing and electrical is 99% the same as conventional construction. The few differences are shown here. Everything else you need to know can be learned from library books or pocket guides. I prefer simple electrical and plumbing pocket guides because they show only what you need.
Electrical
Run romex wire in the gap between courses of bags and pin in place with fencing staples or nails. Embed wood blocking (anchors) as you go wherever you want an electrical box. I like to use pieces of tree branches as anchors. Simply screw the box to the end of the branch. If you want to add additional electrical boxes, you can do so with 1/4″ rebar pins.
Installing Electrical Boxes
Installing Additional Electrical Boxes
Other Uses for ¼" Steel Rod
Plumbing
Run water lines and drains under the earthbag walls through a steel sleeve and up through an interior wood framed plumbing wall (often 2×6 studs). Since all the plumbing is typically within the plumbing wall, almost everything is conventional.
Common Plumbing Walls
My Earthbag Building Guide covers these subjects in slightly more detail, although the above information should be enough to get by. Check with code officials before building! The above methods are perfectly safe and can meet code, however, they may not be accepted in some areas.