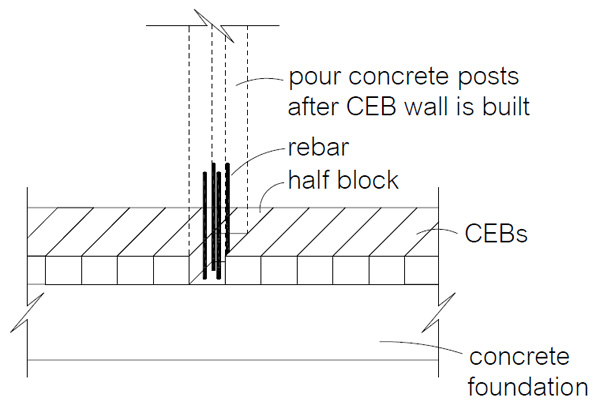 One way to speed construction of compressed earth block walls (CEBs) is to pour concrete posts after the CEB walls are built. This process may be desirable in mild climates where there's low probability of rain or snow and you are eager to get the walls built. Pouring the posts in the walls saves on form material, and reduces cutting and fitting of blocks (less need for perfect alignment). Posts are inconspicuous (or invisible in some cases – see below) because they're inset flush to the wall.
Summary of the building process:
– Rebar protrudes approximately 2 feet above foundation at the location of every post.
– Stack the CEB walls, placing a half block (CEB cut in half) next to where the post will go. This will create a beautiful, uninterrupted earth block wall on the exterior. In other words, the posts are not visible on the outside of the house.
– Attach additional rebar after the CEB walls are complete. Tie the rebar to that which is sticking out of the foundation. This rebar is then connected to rebar in the concrete bond beam to make a very strong framework. Designed by an engineer, this method could meet code even in earthquake zones.
– Optional: mask off CEB wall on both sides for a neater pour and to reduce cleanup.
– Place an oiled form board for each post against the wall and brace in position. The form board needs to be slightly wider than the width of the post (wall cavity).
– Pour the concrete, being careful to eliminate voids.
– Remove the form boards after the concrete is set up.
– Posts can be hidden by aligning them with interior partition walls, placing in closets or behind cabinets. If nothing else, they could be painted a neutral color so as not to draw attention.
Alternatively, you might want to build the posts first. Building the post and beam frame in advance (before stacking CEBs) enables you to complete the roof so you can work undercover in the shade, out of the elements. This reduces risk of moisture damage to the blocks and makes for a more pleasant work environment. There are pros and cons to each system. Use what makes most sense in your particular case.
Note: Concrete posts are not always needed, of course. Talk to an engineer about your project.