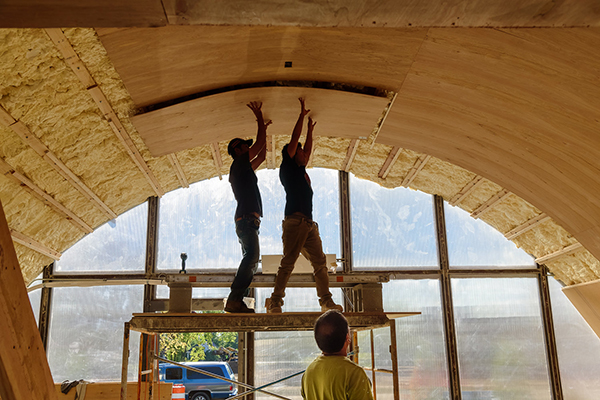 One of our readers (J. Bowie) kindly sent me some links about new quonset hut projects in Detroit. He's currently building his own quonset hut home and is in the process of trying to figure out the best, most practical and affordable way to build it. One tip he passed along is he's using recycled SPF foam insulation because he reasons the outgassing has already occurred or at least will be greatly diminished. Below I summarize two projects in Detroit.
Profile #1 – Prince Concepts: With a quonset hut, you get two walls and a roof for the fraction of the time and cost of those elements, typically. You also get an elegant and novel structure. The polycarbonate end wall panels are translucent, but not transparent. The natural light in the space is abundant, the insulation is immense, and the aesthetic is inspired. The result is tough, effective, and not too precious.
Both Study Huts have sleeping lofts which were after thoughts. Upon building the spaces, it seemed like sleeping close to the "arch" of each hut would be calming, and heck, what human doesn't want more space.
The Study proved to be a success, both huts were constructed at their budget, were immediately leased, and are currently occupied in live/work capacities. Visitors from all walks of life, colors, creeds, and socioeconomic classes respond exactly the same way to the live/work bunkers "Damn, I want one of these. This is crazy. I love it!"
Profile #2 – EC3/ True North: True North is the first ground-up mixed-use development by EC3 in the city of Detroit, which is undergoing a profound transformation to reinvent itself as an incubator for design and innovation. Located 2 ½ miles from Downtown, in a low-key, spacious residential section of the city, the project will be the first new construction in the area in over 60 years. Conceived with the aspiration to foster affordable and sustainable lifestyle, True North is pioneering for both where and what is being built.
EC3 is challenged to transform military structures for War into a welcoming, and hospitable design for the residents of Detroit today. Each prefabricated Quonset Hut is assembled on top of a 4" concrete slab with radiant floor heating integrated below the finished floor. The interior of the huts will be finished with several options of materials, such as plaster and plywood panels, to ensure thermal protection and to evoke a sense of warmth in the cold winters. The end walls will feature "hand-crafted" steel framing around polycarbonate panels that provide light, while keeping privacy and thermal value.
Being able to assemble the Quonset Huts efficiently in a matter of days has made it feasible for the Client to achieve a unit construction cost of $75 per SF, and a projected rental cost at below the market rates in Detroit.
Comment from J. Bowie: Currently I'm looking at a 750 sq ft, S Model Quonset. The S model has the straight walls. Block and concrete footer foundation. Concrete block end walls. SPF on roof and ISO rigid reclaimed on roof and end walls. ISO as interior walls with plaster finish. 1 bed room. Full kitchen. 1 full bath. Sleeping loft. There will be some earthen elements within the interior as well as reclaimed t&g wood. I think based on my price list I can do it for @ $20 sq ft or $15,000. The above is just a primer on where I'm at and where I'm heading.