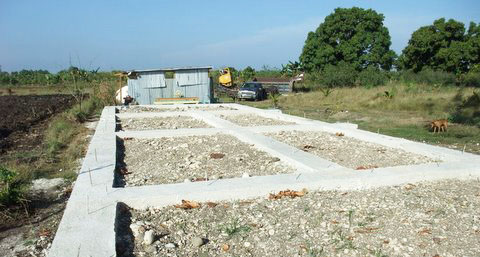 Construction has begun on a new clinic with environmentally friendly low cost earthbag construction at rural Petite-Riviere, Leogane, Haiti.  The new clinic will have four exam rooms (including a dental suite), a treatment/surgical room, nurses station, waiting room, storage and bathroom.  Completion will hopefully be in early 2011. The current makeshift clinic (seen as the metal shack in the distance above) dispenses medical care, treatments and medications free of charge to 600 patients monthly. This is the only medical clinic in all the Leogane Zone.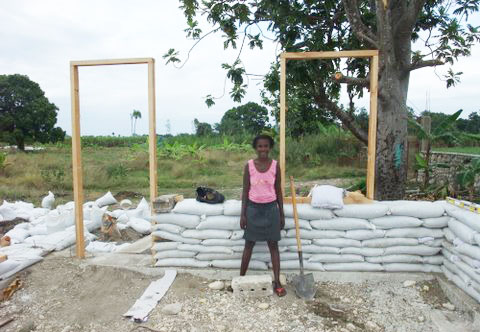 The project has been conceived and championed by doctor Arielle Adrien of Boston. The first construction supervisor has been Rob Lewis, a volunteer from Colorado, who plunged in without any prior earthbag training. It was designed by Patti Stouter.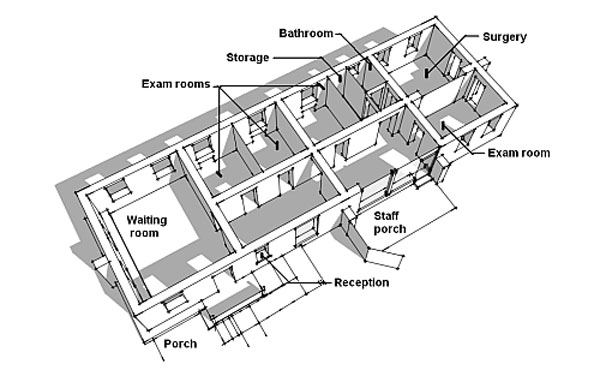 This 1200 sf (115 square meter) building has extra reinforcement because at 19 x 64 m it's a little longer and narrower than is best for a structure in a high seismic risk area. It uses unstabilized earth, with some sand added to a very strong silty clay on site. Cement stucco is being applied over a wire mesh to add extra strength.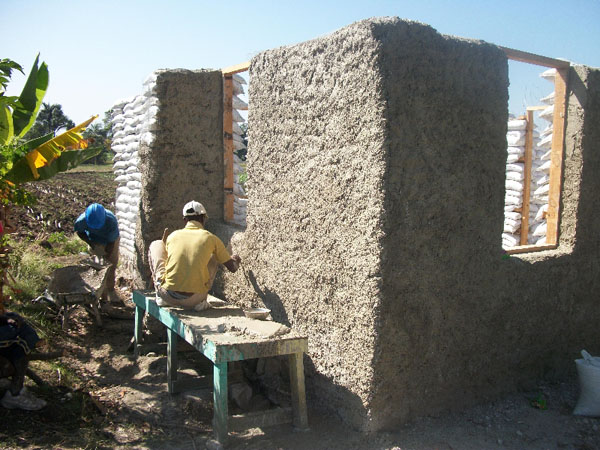 The Rasin Foundation (which means "roots" in Kreyol) is looking for volunteer carpenters, masons etc. to help finish building this medical clinic. To volunteer, please contact rasinfoundationATyahoo.com. To make a tax deductible financial contribution through secure Paypal to help finish construction, please visit www.rasinfoundation.org.
To see one other photo visit www.earthbagstructures.com.