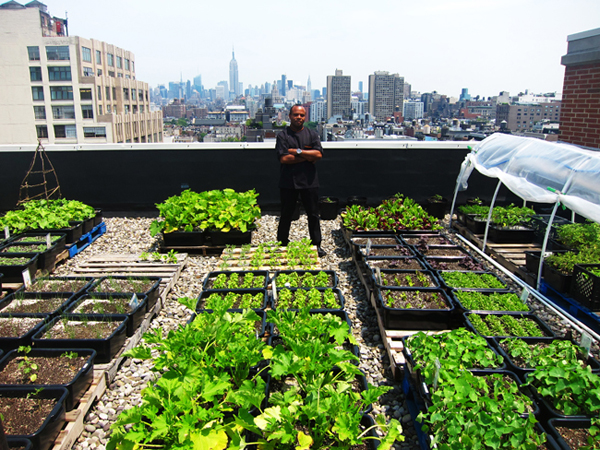 Rooftop gardening is a simple idea that could help billions of people worldwide. It's actually an ancient idea that's already common in Japan, Singapore and Taiwan. Rooftop gardens are gaining traction in other places as well. The concept involves growing food on top of flat roofed buildings, primarily in urban areas where growing space is limited and the need for fresh food is greatest. France has just signed into law that all new commercial buildings incorporate green roofs.
Take a city like Kathmandu, for instance. Most buildings in this city of 1 million people have flat roofs that could be utilized for rooftop gardening. Growing space, large plastic water tanks and plumbing are available on most of these roofs. It would be relatively simple to add all sorts of containers for growing food – pots, buckets, trays, etc. Vertical gardening is ideal for rooftop gardens because it maximizes the use of space. Train plants to grow upward on bamboo, poles, twine, recycled fish net and other locally available materials. Consider adding a compost bin for processing food scraps and an old bathtub or other container for a worm farm to boost soil nutrition. I'm sure people would gladly pay for fresh organic produce instead of the dusty, wilted produce currently available on the streets. Some trays of plants such as lettuce, kale, bok choy and cilantro could be cut fresh right when they're purchased. Most produce could be sold to the buildings' inhabitants for a fee through a CSA agreement.
Another option is building hoop houses or tunnels similar to the one we built in our forest garden: Our Mesh Hoop House is Finished. Structures like these would protect plants from cold spells, birds, monkeys and other pests.
Image source: http://watchessuperstore.com/wp-content/uploads/2015/08/rooftop-garden-soho-grand-hotel.jpg
Thanks to Tamar from Israel for this suggestion. Kathmandu is an international crossroads where it's easy to meet lots of foreigners who are working on all sorts of interesting projects. I compare my normal life at home like driving around the block. In Kathmandu, life is more like driving around a track in a race car – crazy but exciting.