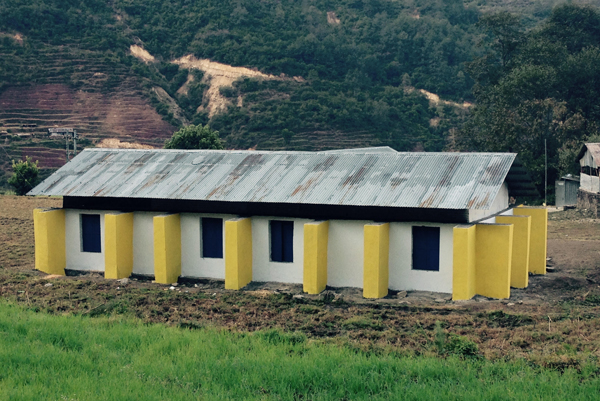 The first of its kind earthbag school in Nepal has steel posts embedded inside an earthbag wall. The steel framed school was retrofitted with 3-meter long heavy duty polypropylene earthbag tubes filled with soil. In this unique project, the steel frame and earthbags reinforce each other. The final cost was significantly less than building a new school, because they were able to reuse all of the main structural components. There are thousands of similar earthquake damaged schools across Nepal that could be rebuilt in the same way. Rebuilding this way could save Nepal millions of dollars.
Here's a brief report from Kateryna Zemskova of Good Earth Nepal.org who was in charge of the project: "We reused existing windows, doors, roof, metal frame and foundation. This cut costs in half. It could have been $12,000 USD, but it ended up costing us about $13,500 USD due to the challenges in the community (the workers were cheating, they charged us for soil, etc…). I'm sure in a different community we could have made it for 12K."
Owen: I'm not sure of the exact number, but let's say there are 5,000 more schools like this in Nepal. Let's assume the schools are moderately damaged but still in good enough condition to be retrofitted with earthbags. At a savings of $12,500 per school that could save Nepal over $6 million USD. The potential savings would actually be much higher if you factor in the cost of demolition and trucking to remove the old materials. Due to the scarcity of buildable land in remote Nepali villages, the demolition cost really should be factored in if the schools are not retrofitted.
Also note, the trainers and volunteers on this project were amazing. They were highly skilled, kind and hard working, as are virtually all of the workers on earthbag projects in Nepal. When you consider how difficult the conditions are in these remote villages, it really makes you stop and ponder the situation. If I needed workers for a project I would hire these workers in a second. Anyone who criticizes the youth of today should go and meet these workers in Nepal. And thanks, of course, to the older volunteers who are throwing their hearts into rebuilding Nepal better.
Previous article about this project: Sewing Gusseted Earthbags