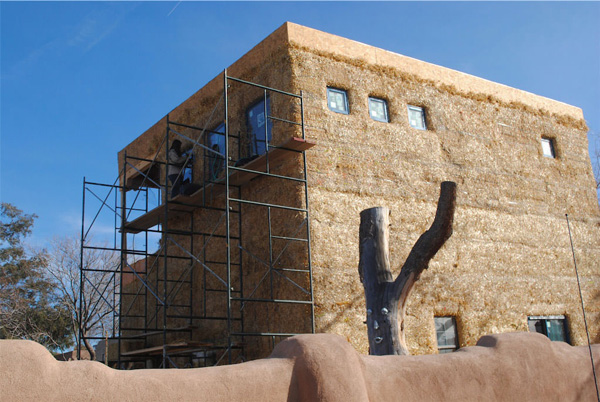 "Do your heating bills drive you crazy in the winter? Are you and your family sweltering inside your home in the summer? Do you want to improve the look of your home? Do you need new electrical outlets in your house, but can't afford it? What if there was a 'green' and affordable way to solve all of this? We think there is. It's called a 'straw bale retrofit', and we think you'll love it.
There are multiple ways a straw bale retrofit can affect your home, one of them is turning it into a place of efficiency and beauty. Insulation. Electrical. Mechanical. Doors and windows. Aesthetics. Additional square footage. And so on. At our workshop, we will give you a full listing of the advantages and some challenges–of a straw bale retrofit and how doing so could help your own home.
Like most other building methods, you could stumble through a straw bale retrofit yourself and probably make a good job of it. However, we've been doing it for a long time and have learned a lot about the pitfalls, ways of making it easier, things to avoid, and a whole variety of different retrofit options for different styles of houses. The workshop will guide you through those things we've learned–and you'll gain the advantage of our years' worth of experience.
At this workshop, we will not only show you the how-to's of a straw bale retrofit but we'll also point out and demonstrate the many ways you can optimize such a building method. Do you want to make your windows bigger but not lose energy efficiency? Is there an area around your house you want to create shade while keeping the passive solar gain? Will moisture and animals really be kept out of the bales? How about stucco cracking on two-story retrofits, or the options of retrofitting a mobile home? We'll tell you what we've learned about how to do straw bales right!
Sign up now for the Straw Bale House Retrofit Workshop in Albuquerque on April 25th and 26th. Cost is $85 for both days."