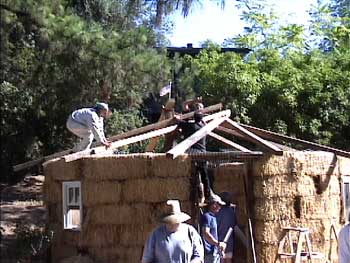 A kindred spirit sent me a memorable letter about 10 years ago. They had read about the strawbale roundhouse I helped build with the Lakota Sioux in South Dakota. (I recently found out the roundhouse later got destroyed in a flood.) For some reason the straw bales on that particular project were very difficult to bend into shape. Normally you can set one end of a bale on a raised object such as a small log, stomp the side of the bale in a few places and end up with a curved bale. Well, these bales would spring right back to their rectangular shape. So we'd stomp them again and again until they 'cooperated'. But the bales would still gradually straighten out somewhat in the wall. We successfully finished the shell of the house on schedule, but I'll never forget those bales.
I was pleasantly surprised to hear from the author of the letter that they build strawbale roundhouses in one day. I never got around to mailing them back for some reason and I've always wanted to connect with them somehow. Maybe they'll see this blog post and write again.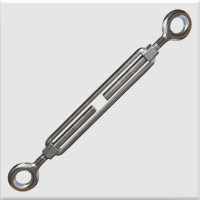 With that background, here's the basic process they use. It's quick and easy to stack bales. They're like pre-made giant building blocks that can be set in place by one person (or two people who are less strong). The tedious part as mentioned above is keeping the bales in alignment (= perfect circle). The author uses ¼" steel cable and turnbuckles on each course of bales. The cable is wrapped around the roundhouse and the ends fastened to each side of the pre-set door buck. The turnbuckle is added in a convenient location and then tightened until the bales are cinched into the desired radius. The turnbuckles are embedded in thick exterior plaster.
Image source: (Random image of strawbale roundhouse for illustrative purposes) Design Forward.net
Image source: Techni-cable