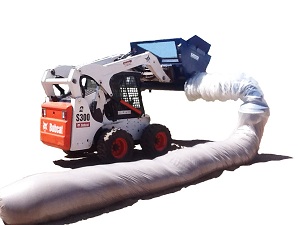 The Earth Home Builder™ is an extraordinary skid-steer operated (universal mount) Earth Home building machine. This unit is the same as the Instee Levee Builder® except it has been outfitted with specialized earth home building technology. The Earth Home Builder® fills earthbag tubes of many sizes at a rate as fast as 400ft per hour.
We welcome your questions and look forward to assisting you so please call us: 1-800-557-9024 or email us through our Contact us page.
Sale price available for limited time. Buy today: $12,500 Financing Available!
Email response:
"Hi Owen, we are building test homes in May and will be happy to share what we develop. We have 3 models that we are going to work on at that time. We will have jig walls [forms] that are portable that keeps wall plumb on inside wall. Then we use compactor to level and pack. So far looks promising and very fast."
I assume they'll be using pneumatic tampers to speed things along.