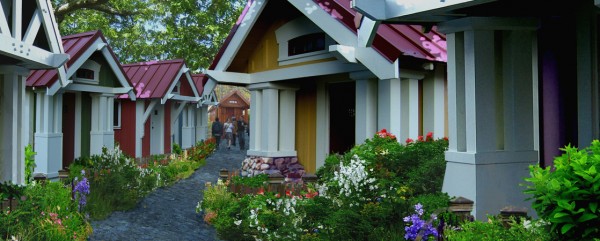 I tried to describe my dream ecovillage the other day in Tiny House Ecovillage in a Fruit Orchard. That story was just fantasy, of course, but Jay Schafer of Tumbleweed House Company is planning the real deal – a tiny house ecovillage in northern California. Here are a few tidbits from his new website Four Lights Houses.
WORKING TITLE: The Napoleon Complex
WORKING SUBTITLE: Co-Housing for the Antisocial
DENSITY: 16–22 houses-per-acre
SIZE: 40 -70 houses at 270 s.f. – 700 s.f. each (including sleeping lofts).
AMENITIES: A 800 – 1600 s.f. common house, private gardens, 1.5 parking spaces per house, shared outdoor space, private storage units, prominent pedestrian walkways out front with parking out back.
LOCATION: Northern California
ZONING: RV Park
INTENT: To create a contagious model for responsible, affordable, desirable housing.
PROPOSED OPENING: 2015
DISCLAIMER: Any or all of these ideas might change if we think of something even better.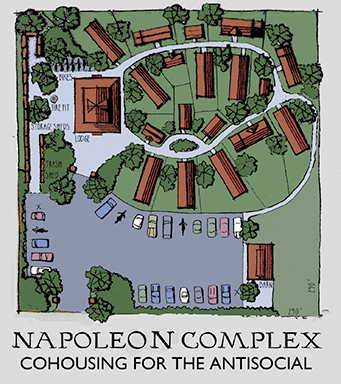 My friends, Yohan Morgan and Mark Sowers, and I have been talking with Sonoma County's zoning department about building a tiny house village. The officials seem to love this idea as much as we do, so we've started investigating some of the details involved and taking some concrete steps to make it all happen.
In many ways, tiny houses work best in concert with other tiny houses and shared amenities. This is a dream long-shared by many including myself. The place will be zoned as an R.V. park, but will look and feel more like the concept drawings I'm presenting to the left. I've used the same design principles that go into each of my tiny house designs to create an environment that feels contained but not confining—vibrant but not at all crowded.
For now, I'm jokingly using the term "co-housing for the antisocial" because, while its design does facilitate interaction, Napoleon Complex will also provide enough privacy to satisfy even its most introverted inhabitants.
This will be structured as something like a co-op. Folks will own their own portable house and the small parcel it sits on, and they'll pay a set amount per month to maintain the common facilities.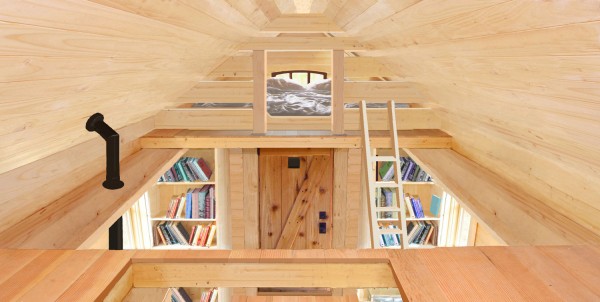 Source: Four Lights Houses
Thanks to Tiny House Design blog for bringing this story to the fore.