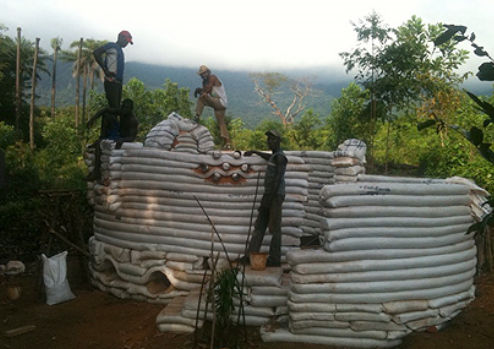 This post is from Tribe Wanted.
Work continues, tribe members are slowly trickling in, about 30 of them have joined us on the beach thus far, and we find ourselves with a cross-cultural community that works.
Our first earthbag dome is finished and we have begun the second one. We have filtered running water in the kitchen and in the compost toilets, a work deck for our solar house, and our crops are beginning to grow. Our local crew is working hard and we promised them a bonus if the second earth-bag dome is ready for Christmas. We have begun promoting the project to the Freetown crowd as well, offering a local tribe package, and continue to do numerous PR, locally as well as internationally; with presence on CNN, Reuters and the Telegraph on a weekly basis, just to name a few.
Image credit: http://www.telegraph.co.uk/travel/activityandadventure/8093541/Going-Native-Sierra-Leones-shock-and-awe.html