Bacillus pasteuri, naturally occurring bacteria, can be used to turn sand into sandstone (calcite cement). This relatively simple process creates durable, low cost building materials. The technical name for this is microbial-induced calcite precipitation (MICP). Ginger Krieg Dosier of the United Arab Emerites was awarded the Metropolis 2010 Next Generation Winner for her innovative work. "If Dosier's biomanufactured masonry replaced each new brick on the planet, it would reduce carbon-dioxide emissions by at least 800 million tons a year. Don't bake the brick – grow it."
From the above article: "Here are 12 simple steps for reproducing Dosier's competition-winning idea. 1. Place the formwork in the sand. 2. Fill it up. 3. Level. 4. Shake the bacteria solution. 5. Pour it over the sand. 6. Let it saturate. 7. Pour the cementing solution over the sand. 8. Let it saturate. 9. Watch the brick harden. 10. Remove the formwork. 11. Watch the brick harden some more. 12. Behold, an ecobrick!"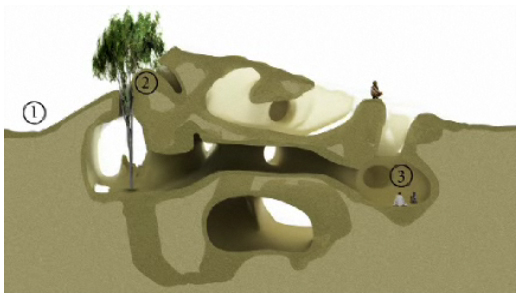 Magnus Larsson, an architecture student who's researching applications for MICP explains his proposed 6,000 kilometer habitable wall across Africa using bacteria-solidified sand in this TED talk.
Benefits of MICP stabilized earthbags include:
– stronger, more earthquake and hurricane resistant structures
– possibly thinner walls
– more durable water-resistant walls
– less tamping/faster construction
– less use of cement
Hurdles remain, however. The process gives off ammonia and so Dosier continues her research.
Image credit Magnus Larsson
The Better Brick: 2010 Next Generation Winner

Bio-Soil Improvement Their research involves stabilizing soils under the foundation.
Big thanks to Scott Howard of Earthen Hand for alerting me to this concept.