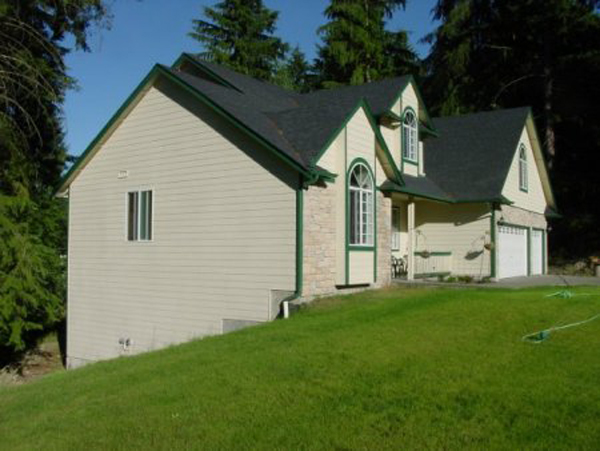 Sloped building sites are usually less expensive than level sites, and offer one way to cut the cost of a new home. However, sloped sites are more challenging to build on. One solution is walk-out basements, where most sides of the house are below or partially below ground and one side is level with the ground. Homes with walk-out basements typically look like conventional homes on one side (often the front of the house). From the back of the house (often facing south for solar gain) you can see the basement windows and doors. The best orientation is usually with the long axis of the house east-west with a window wall and doors facing south. This orientation provides natural daylighting and helps heat the home in winter.
Here's how Wikipedia explains it: "A daylight basement or a "walk-out basement" is contained in a house situated on a slope, so that part of the level is above ground, with a doorway to the outside. The part of the floor covered by the ground can be considered the true basement area. From the street, some daylight basement homes appear to be one story. Others appear to be a conventional two story home from the street (with the buried, or basement, portion in the back). Occupants can walk out at that point without having to use stairs. For example, if the ground slopes downwards towards the back of the house, the basement is at or above grade (ground level) at the back of the house. It is a modern design because of the added complexity of uneven foundations; where the basement is above grade, the foundation is deeper at that point and must still be below the frostline.
Full-size windows can be installed in a daylight basement. These can provide exits for bedrooms (building bedrooms in basements is usually illegal without an outside escape). Ventilation is improved over fully buried basement homes, with less dampness and mold problems.
Daylight basements can be used for several purposes – as a garage, as maintenance rooms, or as living space. The buried portion is often used for storage, laundry room, hot water tanks, and HVAC."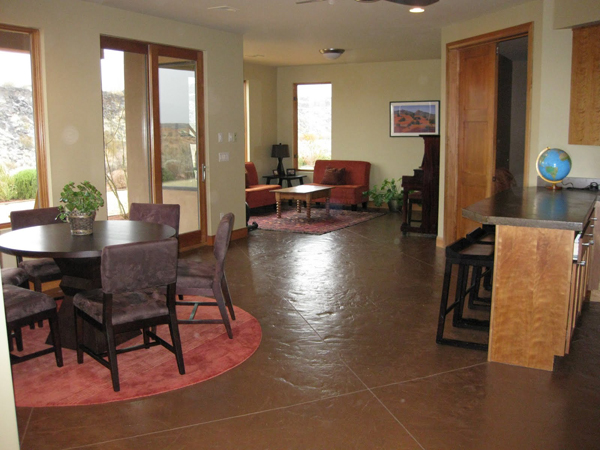 Source: Wiki
Image source: Snow Canyon Homes