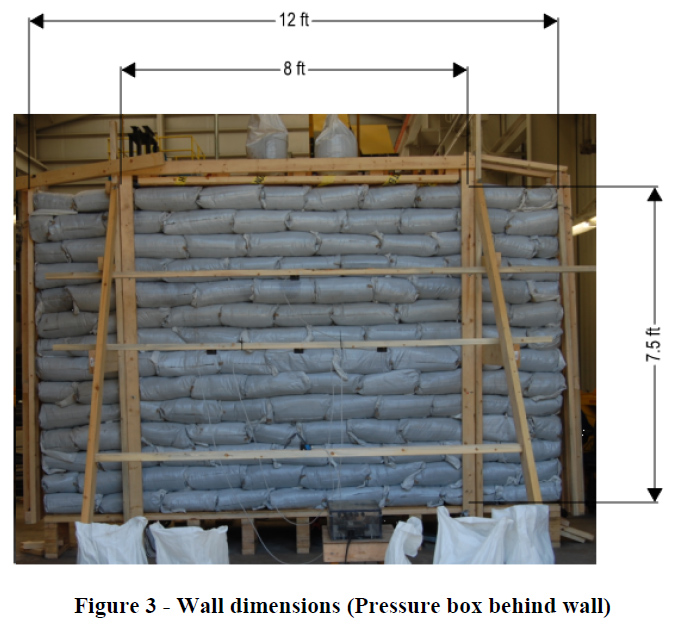 Breaking news. This just in from Brandon Ross, P.E. whose team has just completed an earthbag wind test in Florida. Text is from his preliminary report. Final results are expected to be published in a few months.
"The University of Florida chapter of Engineers Without Borders has completed wind testing of an earthbag wall. The project was conducted in support of Barrels of Hope, a Gainesville, FL based NGO that provides development assistance in Haiti. Test results will guide Barrels of Hope as they work with Haitians building earthbag shelters.
Testing was conducted at the Powel Family Structures Laboratory at the
University of Florida, using the high airflow pressure loading actuator, or HAPLA system. The HAPLA system generates out-of-plane (broad side) pressure on wall specimens, which are placed in front of the HAPLA pressure box. The HAPLA system is capable of generating quasi-static and dynamic pressures.
The earthbag test wall was approximately 14 in. thick x 7.5 ft tall x 12 ft long. Bags were filled with a slightly moist sandy-silt. Each course was approximately 6.5 in. tall, and was compacted by a tamper. Two rows of barbed wire were placed between each course. The wall loading and restraints were designed to mimic conditions present in earthbag shelters. The center 8 ft of the wall was pressure loaded by the HAPLA. Two earthbags were placed on the top plate to simulate the dead load of the roof.
The completed wall was subjected to out-of-plane dynamic pressures up to 30 psf and quasi-static pressure up to 60 psf. Out-of-plane displacement was monitored at (5) points on the wall using string potentiometers. Analysis of the load and displacement data is underway, and preliminary results are encouraging. The wall did not collapse during any phase of testing, and was able to support approximately 30 psf prior to undergoing permanent displacement."