Woodchip/light clay is a traditional building material in Germany and other European countries. It's typically used as infill between timbers in post and beam construction. I've been told that bags of pre-mixed materials are standard items in building supply centers, and blocks can be made to order. The drying time, shrinkage and labor are less than using straw/clay.
Although no one to my knowledge has used woodchips and light clay in earthbags, this building system has good potential and so I'm planning to build a test wall — maybe one wall of a garden shed.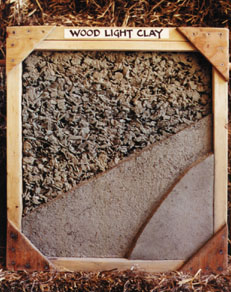 The building process is very simple. Thin clay slurry is mixed with chips and used as fill material in the bags. Clay holds the chips together and protects the wood from insects, mice and fire. Clay also absorbs odors, moderates humidity levels and provides thermal mass to help stabilize indoor temperature.
Advantages: Low cost, possibly free materials; lightweight; reduced labor; faster to build than soil-filled earthbags; easy to mix; very little tamping; non-toxic; locally available natural resources; sustainable and recyclable, approximately R-2 insulation.
Chips can be up to 2" diameter. They should be bark-free, since bark decomposes rapidly. Chips can be dry or green, and often can be obtained for free or very low cost from city recycling programs or tree trimmers. The ratio is 4 parts woodchips to 1 part clay slip.
One drawback is drying time — about 8 weeks for a 12" thick wall during warm weather, and even longer for 16" walls. Builders in cold climates would have to plan accordingly to allow adequate drying time and prevent freezing. And like typical earthbags, walls must be protected from the elements with adequate roof overhangs. Risk of moisture damage probably rules out the use of woodchip/light clay for domes.
Photo credit Frank Andresen
More details are available here.