The following report from an anonymous experienced builder in Haiti is about a new earthbag dome that's already failing. My intent is not to bash these particular builders (I don't even know who they are), but rather use this example as a learning opportunity to encourage good design. It's great that people want to help others, but also we encourage everyone to learn as much as possible about earthbag building and cultural issues before embarking on projects. Those in Haiti are desperate for decent shelter, so please, let's do everything possible to build safe, durable, culturally appropriate housing.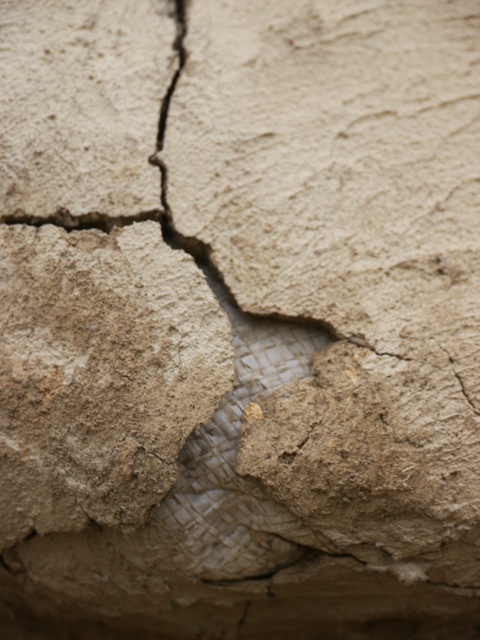 …The problem now as always is that the technology is being executed by people with minimal skill, experience or quality control. I by no means mean to put myself above that, however more and more I can see that technically well executed projects are better demo's! Here is a picture of a demo building located north of the city. While I personally love round buildings this as a home for Haitians is very silly. When we stopped in to take pictures the other people who lived in the housing compound came to say hi. They were not interested in living in such a structure as its shape was incorrect and the roof seemed heavy and the plaster was already coming off.
Seriously, this building gets a D- at best for the quality control. It's a pity but this is now what several organizations think when they hear about Earthbags. I'm glad there are more culturally sensitive approaches out there and look forward to supporting them however we can.
The plaster was finished in the last two weeks and is already delaminating. Though they used cement to stabilize it this as you know is not a practice that works with "any" soil — you have to test for compatibility. In this case there are too many silt and smaller clay particles for cement to be effective. The smaller particles bond with the cement and surround it effectively making the bonds weaker rather than stronger. Now it will be a few weeks by my estimate before the bags themselves deteriorate. (I left a few out in the sun for kicks and after one month they were gone.) I give the building 4-6months if no steps are taken to protect it better.