My previous post described an alternative bond beam for curved walls; this post is on straight walls. Conventional reinforced concrete bond beams may not be affordable or the materials unavailable. Or maybe you want to reduce or avoid using cement. Here's one low-tech, low-cost bond beam design. It's even possible to use salvaged materials for all or most of this bond beam.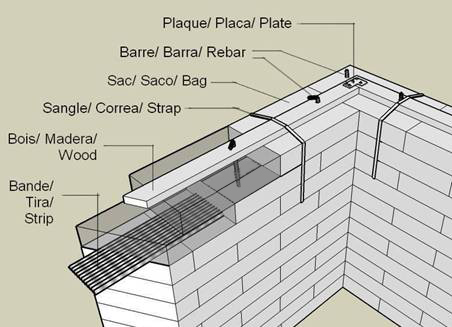 Materials: Corrugated metal roofing, 2×4 (5x10cm) wood, metal brackets/mending plates and screws, 16d nails, ½" rebar, and twine, rope or strapping.
In this design, corrugated metal and wood top plates are bound together with twine or strapping to stiffen tops of walls. Top plates, joined with metal plates, provide for easy attachment of trusses or rafters. Drill holes in top plates every 24" (60cm) for rebar pins.
Vertical rebar pins about 24" (60cm) long tie the bond beam into the wall below. Driving the rebar at alternating angles adds strength.
Use 8-12" (20-30cm) wide pieces of corrugated metal roofing overlapped at ends about 12" (30 cm) and nailed to the bag below at overlap points. Lay two courses of earth-filled bags above the corrugated metal strips.
Drawing credit to Patti Stouter.