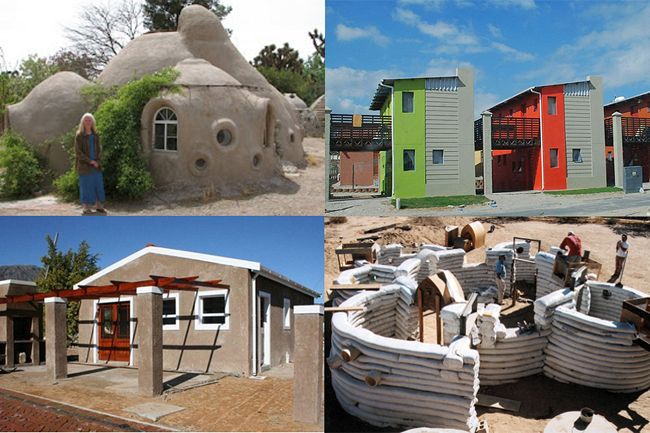 The four houses shown above are completely different in size and style, but they are all environmentally friendly, cheap, and fast to construct because they are made with earthbags. The four earthbag dwellings above are, clockwise from top left, in Veracruz, Mexico, Capetown, South Africa, Ahwaz, Iran and Durban, South Africa.
Many countries with urgent housing needs are constructing low-cost houses using a range of alternative building materials, such as bamboo, plant fiber board, synthetic concrete, papercrete, rammed earth, old shipping containers, rubber tires, reclaimed timber and glass and plastic containers.
The home below is made of used plastic bottles and other recycled waste. This is one of many innovations of Earthship Biotecture, based in New Mexico, USA. These dwellings feature solar and wind power for heating, cooling and other energy needs plus self-contained sewage treatment.
Australians are now facing the challenge of alternative housing with more urgency than has been shown in the past because of high rates of homelessness. Last month, the Australian Bureau of Statistics reported that 122,500 Australians were homeless on Census night in August 2021. That was 480 for every 100,000 in the population. The remote Indigenous communities are where alternative housing solutions will be most strategic.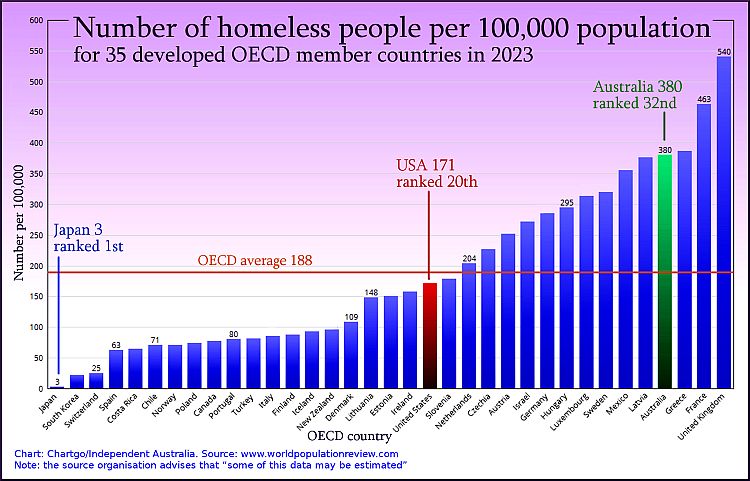 Japan currently has the best record of housing its citizens. Second best is South Korea, also in the East Asian region, and then Switzerland. The two worst nations for homelessness, surprisingly perhaps, given their wealth and long cold winters, are the United Kingdom and France.
You can read the original article at independentaustralia.net