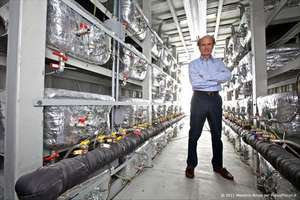 Today's news is reposted from my favorite blog — E-Cat World.com. It's a story I've been following closely for several years because it is world changing technology. For those who don't know, Rossi now has major investors and is half way through a successful year-long test of an industrial sized reactor in a commercial plant. This patent will help protect his IP and attract the major funding he needs to bring his cold fusion reactor to market.
"Mats Lewan has posted on his Impossible Invention blog that Andrea Rossi has been granted a US Patent. [See book summary below.]
The patent was granted today, August 25 2015. A link to the full text is here:
https://animpossibleinvention.files.wordpress.com/2015/08/us9115913b1.pdf
This should be a very significant event in terms of replication of the "Rossi Effect". There have been a number of efforts already by people who have studied Rossi's statements, E-Cat test reports, and the work of other replicators like Alexander Parkhomov [plus a major lab in China]. Now we have some important new details that should help replicators — and I am sure new replicators will get in the game now.
More at the source: E-Cat World.com
An Impossible Invention by Mats Lewan is highly acclaimed and widely agreed as the best, most thorough book about Andrea Rossi's cold fusion reactor called the E-Cat.
Previous blog posts that explain previous testing, use by government agencies and corporations, replications in universities and other countries, and lots of other fascinating information that make this the story of the century:
Tests Confirm Anomalous Heat Production in Rossi's E-Cat
LENR Update: What Can You Tell Them?
E-Cat Update: LENR Confirmed by Mainstream Scientists