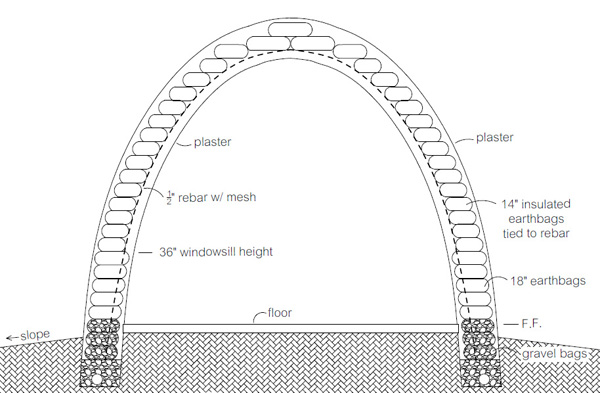 Question: "I was wondering if there is a limit to the size of diameter an earthbag dome can have. I am wanting to have a dome with more than 800 sq ft. I would like it to be a dome because I do not want the hassle of constructing a roof, and I'm a simple person so I am only wanting to construct one dome instead of multiple ones. Any information about this would be helpful, thank you!" Tyler
Owen:
Somewhere around 20′ interior diameter is about the size limit for earthbag domes. That would be 23′ exterior diameter. That's only 314 sq. ft. interior. No way can you do 800 sq. ft. using conventional earthbag building methods.
The largest earthbag dome at this time is the Om Dome. It's 27′ exterior diameter. They had problems and had to rebuild part of it. Don't risk doing a large dome like this unless you're experienced. The dome could collapse on you while you're building it.
So how can you build large earthbag domes? One option to consider is building the lower part with earthbags and making the upper portion with ferrocement. See drawing above. (This drawing is actually from my earthbag vault design, but it's very similar.) Drive rebar down into the earthbags about every 24" with about 30" extra length sticking up. Make a reinforced concrete bond beam at this point for stability. Now you can make the ferrocement armature. Attach it to the protruding rebar.
You'll need a way to insulate the dome. This could be done by stacking small bags of scoria (about 3"-4" narrower than the lower earthbags) on top of the ferrocement shell. Attach galvanized tie wire to the ferrocement armature that sticks out from the plaster and use it to secure the scoria bags. You could use some baling twine to help secure the bags.
My Earthbag Dome Instructable provides free guidelines to get you started.
Kelly Hart has extensive information about his scoria earthbag dome that will also be a big help.
Everything you need to know about ferrocement is free on the Internet.