While this is far from being an example of natural building, it does demonstrate an interesting concept for habitat that automatically responds to weather.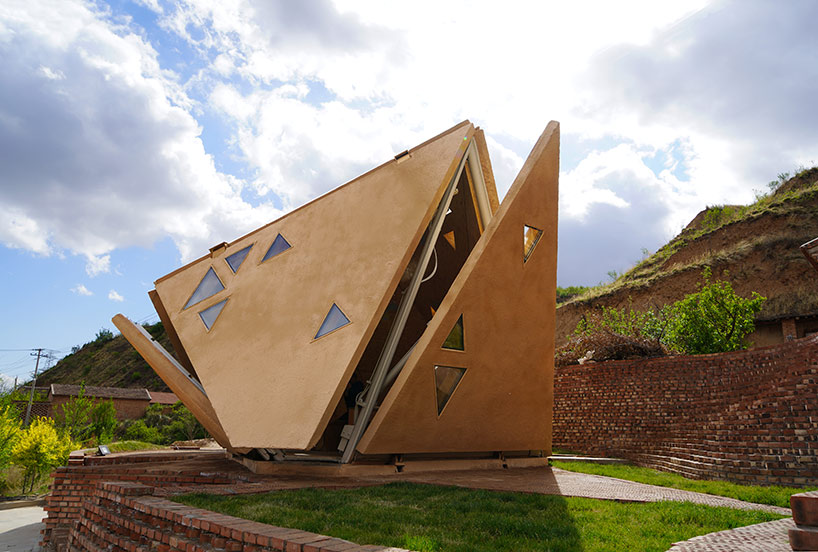 Professor Weiguo Xu of Tsinghua University and his team have built a tourist reception center in China that opens and closes in response to the weather.The structure is used as an information center and a stage for local performances.
Three of the 16 irregular panels are operable using mechanical devices. When the external temperature is between 16 and 29 C (61-84 F) the three panels open in different directions, ensuring both ventilation and views.
When the temperature drops below 16°C (61°F), the panels automatically close and the ground heating system warms the space. When temperatures rise above 29°C (84°F) the air conditioning system kicks in. Storms or snowfall can also be detected so that the building is able to protect itself. Each reaction is automatically carried out thanks to a connected three-part system: sensors that collect environmental information; software responsible for calculating and processing the data; and a mechanical device that performs each movement.
It is made of fiberglass reinforced concrete, with the interior following the irregular folding form. The highest point  is 5 meters (18 feet). Locally sourced red bricks outside the pavilion create a natural amphitheater.
You can read the original article and see many more photos at www.designboom.com