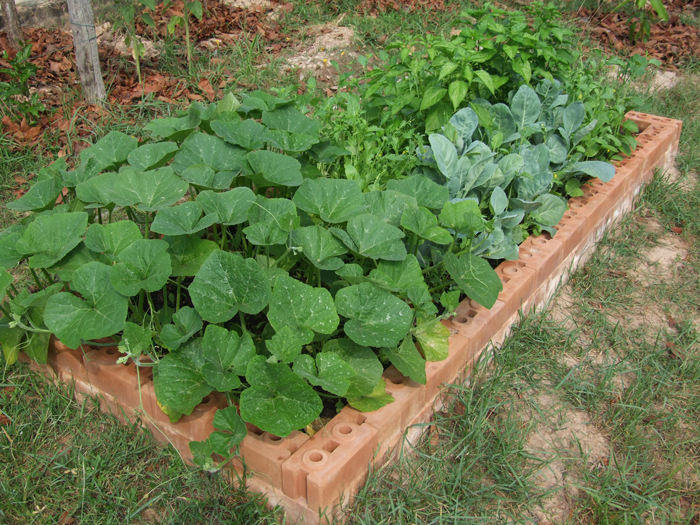 Many gardeners are familiar with Mel Bartholomew's Square Foot Gardening system: raised garden beds of any size divided into square foot (300mm) grids. It's a very popular gardening system and he has sold over one million books.
With this method you can grow five times more plants in a given space with less maintenance. You'll use less water, fewer seeds, and have healthier plants and fewer insect problems. Mr. Bartholomew claims it takes half the labor of typical gardening. You don't even have to dig down in the soil, because the beds are raised above ground. This means you can grow plants almost anywhere, including areas where the soil is really bad. Instead of trying to fertilize and amend lousy soil over a period of years, you use perfect soil right from the start. In short, it's a fantastic system and works well.
But there is one drawback. Mr. Bartholomew recommends wood for building the raised beds. He probably does this to keep things as simple as possible. Anyone can go to a building supply center, buy some boards and nail or screw them together. But most wood doesn't hold up well outside, especially when it's in direct contact with moist soil. In many cases the wood will rot in a few years and you'll have to rebuild the beds.
We have chosen more durable materials for building the raised beds so we don't have to keep rebuilding our garden. It's a good idea to use what is affordable and locally available. In our area we have very inexpensive compressed earth blocks (CEBs for short), so that's what we use. CEBs are made with a mixture of soil and about 10% cement that's compressed in a machine.
You can read the complete article by Owen Geiger by purchasing the April/May 2011 issue of The Owner Builder Magazine.