There is a fun and free online tool for calculating the materials needed for building earthbag domes. I think that it errors on the conservative side, but this is probably a good thing. If you go to www.terra-form.org you can interact with the calculator.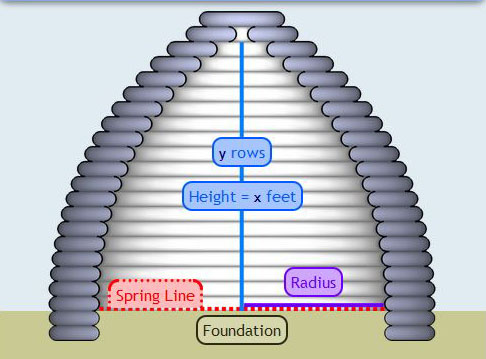 First you enter the bag size that you plan to use and then the radius of the base. If it considers the size of the bag inadequate for that size of dome, it will warn you about this.
You have the choice of entering how the bag gets filled and tamped to create fat or thin bag heights.
You can control whether the dome has a stem wall, an extra buttress around the base, or how many bags will be placed below grade.
You can also control the ratio of stone, sand, earth  and cement for your fill mix.
And finally, you can enter factors that  will affect the cost of the project.
As you change the various parameters of the dome, the diagram of the dome, similar to that pictured above, will update automatically. This can be a really useful learning tool.