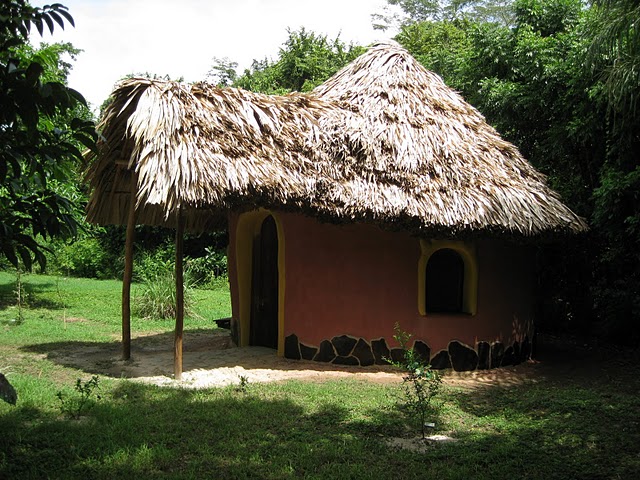 This fine project is by Jesse Loving in Bullet Tree Falls, Belize. The content below is from his Picasa photo album. He has lots of great photos. Take a look. Or see the project page we created about it.
In planning to build an earthbag house in Belize, Central America, I decided to first build a smaller structure so that I could teach myself the process, learn from my mistakes so as to avoid making such mistakes when applying the technique to a large living space and, finally, so that I would have a place to store all the tools and equipment I would need onsite to actually build a mud house.
By mass, this building is 99.9% biodegradable. With its principle components being clay, sand, water, wood, and leaves – I believe it is a good example of natural building. There are some nails, screws, joist hangers, window screen, and a synthetic wood stain . . . . but by and large this building is eco-sensitive, inexpensive, built by inexperienced hands, with local labor and local materials. It will stand for a long time, provides non-mechanical temperature cooling, and is aesthetically pleasing. No forest cover was cleared for construction and the building blends well into its natural environment. No concrete was used, there are few, if any, petroleum-based products used, a very small amount of fossil fuel was used to transport materials, and very little electricity was used to charge a wireless drill and make a few cuts with a circular saw. It was a great experience, and the blueprint for a larger home design.
Image credit: Jesse Loving