Jenny Pickerill is a professor of environmental geography at the University of Sheffield, and I met her when she was conducting research for this book, gallivanting around the world on a Winston Churchill Memorial Trust Travel Fellowship. She interviewed me and we toured a variety of novel eco-homes near Crestone, Colorado, where I was living at the time. In addition to Crestone, she visited ecological enclaves in Britain, Spain, Thailand, Argentina and other locations in the United States.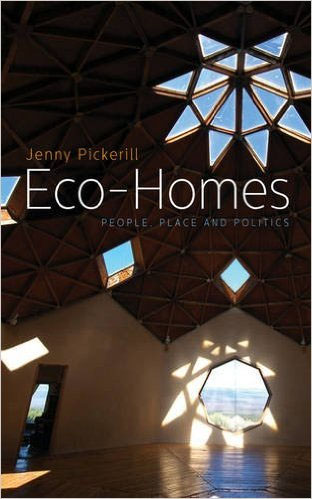 Her purpose in assembling this academic study into ecological living was to focus more on the social, geographical and political issues around eco-housing, which are often ignored, in the hopes that a broader acceptance of sustainable architecture will evolve. I found her analysis enlightening and well worth the read, if a bit academic in its outlook. Each chapter of the book is devoted to a different filter, which in total provides a good understanding of the issues involved.
The first chapter focuses on the eco aspects of eco-homes, and why this is important.  She observes that "eco-houses are being built to deal with the issues of waste through structural innovations by altering size, harnessing renewable technologies, retrofitting existing housing stock and changing occupants' behavior and practices. Each approach has benefits, limitations and financial costs." She goes on to chastise government and industry for emphasizing the technical fixes while ignoring simpler solutions.
Next, Jenny delves into the home aspect explaining how hard it is to define what home really is. Home can generally refer to country, state, city, bioregion, neighborhood, as well as a specific house. We have an emotional attachment to our homes that must be recognized in order to make eco-houses appealing to a wider audience. The emotional component is affected by aesthetics, location, style, privacy, comfort, and worth.
The history of eco-homes is often complex, and generally follows four different trajectories: vernacular, community, deep green and modernist. Continuity and tradition must be considered for any eco-home design to be successfully adopted. There has been some conflict between the movement toward Low Impact Development, which comes from radical social change, and the more technical emphasis of "smart" houses with their appeal for little active involvement of the occupants.
For many eco-builders place is primarily considered according to climatic and ecological factors, but Jenny points out how important it is to also view place as "containing meaning, memories, perceptions and identities, and as dynamic, unfinished and constantly evolving." Case studies demonstrate how not taking this into consideration can result in misunderstandings and antagonism among other local residents.
The affordability of eco-homes is of major concern. The most common criticism of such housing is that it costs too much, which is not necessarily true. Jenny observes that "the complex pressures involved in contemporary housing from capitalist processes (housing built for profit generation and investment, market-determined prices), and state/government processes (planning restrictions increasing land prices, the financial cost of complying with planning and building regulations), to social processes (opposition to new developments, demand for more spacious and luxurious homes) all require careful consideration in developing affordable ecological alternatives."
The question of comfort is central to many people's perception of eco-homes, in that it is often believed that deep ecological living requires forgoing many expected comforts of home. And in fact Jenny did encounter some form of deprivation as she visited various eco-communities, but often the people who lived there didn't perceive it that way; it was part of their attitude about appropriate life. This points out how subjective comfort can be. One person's experience of being too hot or too cold is another person's "thermal delight." Jenny used the different embodiments of bathrooms she encountered to evaluate the wide variety that exists culturally about comfort.
Jenny spends one chapter examining the role that gender plays in fashioning people's eco-building activities. It is a fact that most cultures devalue women as active participants in most aspects of building science, especially those requiring physical work. This bias toward men in this field is unfortunate, not only because it is demeaning to capable women, but it limits women's input at a crucial time when we all need to focus our energy on developing sustainable strategies.
The term mobilization is used to connote the spreading of concepts and technology related to building eco-homes beyond where they are located. Since most such homes have been owner built, there is not a ready channel of dissemination of the knowledge, yet this is crucial for more people to adopt ecological housing. We need access to a global network of knowledge so more people can participate. I suggest that my website, www.greenhomebuilding.com, does just this.
Jenny examines how communities, especially eco-communities, can reduce waste and increase efficiency, as well as be socially rewarding and allow residents to be self-governing and live beyond capitalism. All of this comes with a price, however, of possible loss of privacy, increased time involved in making decisions and lack of professional or responsible building practices. Communities can share space and equipment, which allows for more compact living and less wasted energy and materials.
The final chapter looks to the future, realizing that we need to vastly expand the use of ecological housing. Each situation is unique, however, so there is no universal eco-design that will satisfy all needs. We should celebrate this diversity and make sure that we don't impose building restrictions that stifle innovation. We need to realize that people, place and politics all are important factors to consider when making eco-homes.