Besides some of the obvious choices for ecological flooring, such as adobe or flagstone, there are a number of commercial products that you might consider. Hardwood is great for floors, but it is often not sustainably harvested. Materials like bamboo, renewable fibers, linoleum and others may be sustainably sourced, recyclable, or renewable.
Bamboo flooring is perfect for hardwood floor lovers as it resembles traditional plank wood flooring but has some added advantages. It expands and contracts less than hardwood and is harder than oak or maple and therefore is extremely durable. The most robust flooring comes from mature plants that are six to seven years old. Bamboo comes in a variety of colors, ranging from natural light tones to darker carbonized browns and you can opt to have it stained in practically every hue. Keep in mind that carbonized bamboo is not as durable as stained bamboo, as carbonizing causes the fibers to soften. You should also consider the quality of the finish and the formaldehyde content of the resin when purchasing bamboo flooring.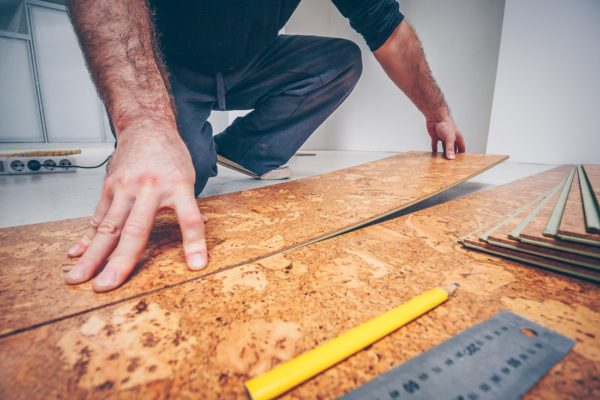 Cork flooring comes from the bark of the Mediterranean's cork oak evergreen trees. The bark regenerates itself in eight to 12 years, making cork a sustainable option. Some manufacturers have even begun to add recycled industrial materials, like scraps from wine stoppers, making cork flooring even more ecological. Cork flooring may come in tiles or planks and is available in a variety of natural and stained shades. It is fairly soft and provides cushioning and insulation, thus reducing noise. Cork floors are durable if cared for properly, with some lasting more than a century. Most experts recommend applying varnish to extend the life of this material.
Advances in flooring technology have made it possible to create a cleaner, allergy-free atmosphere in your home. It is possible to find flooring that resists allergen buildup. Antimicrobial properties can be found naturally in materials like linoleum and bamboo. You can also look for carpets made with antimicrobial treatments or hard flooring with additives like zinc or silver.
Natural linoleum is a biodegradable material made from limestone, linseed oil, cork dust, and other wood fillers and resins. Unfortunately, many flooring manufacturers have replaced linoleum products with PVC-based products. These vinyl tiles are often referred to as "linoleum," which creates confusion for consumers, but you can still find manufacturers who sell natural linoleum. Natural linoleum is very durable, colorfast, and comes in a variety of patterns and colors. It even has some antimicrobial properties, making it another smart choice for people with allergies or asthma.
Carpets made of recycled materials and natural fibers like wool or seagrass, instead of synthetic materials like nylon, are better. Some companies are even creating carpet from discarded fishing nets or post-consumer plastic bottles. And when you're purchasing new carpet, find out if the company takes back the old carpeting at the end of life for recycling.
You can read the original article at earth911.com